Rentals
The JACC is a wonderfully flexible, welcoming, and accommodating venue for all sorts of events from formal to casual. Have a birthday bash, have a ball, have a summit on global issues. The facility is open for the WHOLE community to use.
Arts Council Gallery
The JAHC Gallery, located in the Juneau Arts and Culture Center, provides exhibiting opportunities for new and emerging artists, and established artists who have not recently exhibited in Juneau.
The NEW JACC
The Juneau Arts and Humanities Council will build and operate a state-of-the-art facility to provide shared event, performance, education and gallery space for Juneau's arts and cultural community.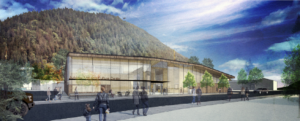 During the work day:
•    There are 4 marked spots on the east and north of the building (facing Centennial Hall and the Zach Gordon Youth Center). State employees with parking permits can use the State spots as well.
•    The Loading Zone on the north of the building is open for facility users to park in.
•    The parking lot on the west, Whittier Street side of the building will accommodate up to 12 vehicles. Park on an angle to accommodate the most vehicles.
•    On street parking on Whittier is also available
During evenings and weekends:
The entire lot between the JACC, Centennial Hall, and Zach Gordon is available, as well as the State Office Building Parking Garage.
History of the JACC
Supported by grants from the city, donations from local individuals and businesses, grants from state and local foundations, and fundraising events such as Wearable Art, Clink!, and Lobby Shop sales. Thank you for all your support Juneau!
(photo credit: Juneau-Buildings-28  Alaska State Library Photo Collection)
How the Juneau Arts & Culture Center (JACC) came to be:
•    The building itself was built in 1959-60 as a National Guard Armory until it was decommissioned in 2005.
•    In 2008, the City Assembly agreed to lease the building to the Juneau Arts & Humanities Council.
•    Over 200 volunteers set to work cleaning and painting the building. The men's showers were converted to a men's and a women's restroom.
•    The facility opened in October 2008 as a space devoted to the arts community and to augment the services offered by Centennial Hall. The JACC continues to enjoy active support from the community, and has developed into a true community center.
•    The Lobby Shop is the result of a generous donation of display cases from Raven's Journey after closing their doors in 2009, allowing us to provide local artists and artisans with an outlet for their wares.
•    The facility was painted as a gift to the community by a local painting company, Herr's Painting.
Other interesting tidbits:
•    The mural paintings on the walls in the Main Hall were done in 1971 by an artist, Ivan James
•    The floor is 4-inch end cut maple
•    The capacity is 299
•    Re-roofed in 2010, and electrical upgrades happened in 2011
•    Gallery – Local and regional artists are selected to exhibit for one month – we have First Friday openings every month
Save