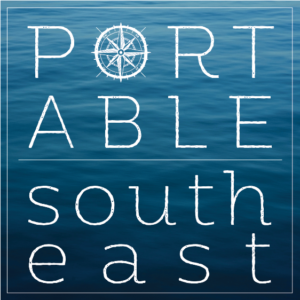 A REGIONAL TRAVELING ART EXHIBIT CELEBRATING LIFE ON THE COAST 
A curated exhibit with submissions spanning from Prince of Wales to Dry Bay, providing increased exposure for Southeast Alaskan artists, and a region-wide celebration of coastal living for Southeast Alaska communities. 
Quick Navigation
Portable Southeast Traveling Exhibit
What is Portable Southeast?
Portable Southeast is a traveling gallery exhibit that will begin during the 2022-2023 JAHC Gallery Season. All works should be inspired by life in coastal communities, small and/or packable, all media are eligible. The exhibit will be curated by a group of people who represent various communities across Southeast Alaska.
The goal is to coordinate a body of work by Southeast Alaskan artists that would tour the region from October 2022-June 2023. The mission of this project is to provide exhibit opportunities for artists outside of their hometown, to build communication & networking opportunities among both large and small Southeast Alaska communities, and to create new partnerships between arts agencies and museums in Southeast Alaska.
How does work get selected for this exhibit?
Three regional curators will review entries and rate them. A number of pieces [to be determined] will be selected for the exhibition. The review process will be entirely digital, at no cost. Curators will represent each of the following regions: 
Northern Southeast: Yakutat, Haines, Skagway, Juneau, Gustavus, Hoonah, Pelican. 

Middle Southeast: Sitka, Angoon, Petersburg, Kake, Tenakee. 

Southern Southeast: Ketchikan, Craig, Wrangell, Hydaburg, Klawock, Metlakatla.
Each region will have two communities represented in the exhibition schedule.
What are the requirements to apply?
Artists may submit up to three works for consideration, and all media are eligible. Due to the highly transitory nature of this exhibit, all entries must fit in a USPS Priority Mail Box (Medium Size Flat Rate Box, up to 14 x 12 x 3 1/4" in dimensions). Other requirements and instructions (such as shipping, etc.) can be found in the application form below.
Who is eligible to apply?
Artists currently residing in any community in Southeast Alaska.
When is the deadline to apply?
The deadline to apply has been extended to September 18, 2022.
Is there an application fee?
There is no fee to apply.
Apply Online
Application Form
Use the form below to submit your work to Portable Southeast. This form does not autosave. To open it in a new window, click here.
This project is made possible with support from the Alaska State Council on the Arts and the National Endowment for the Arts.