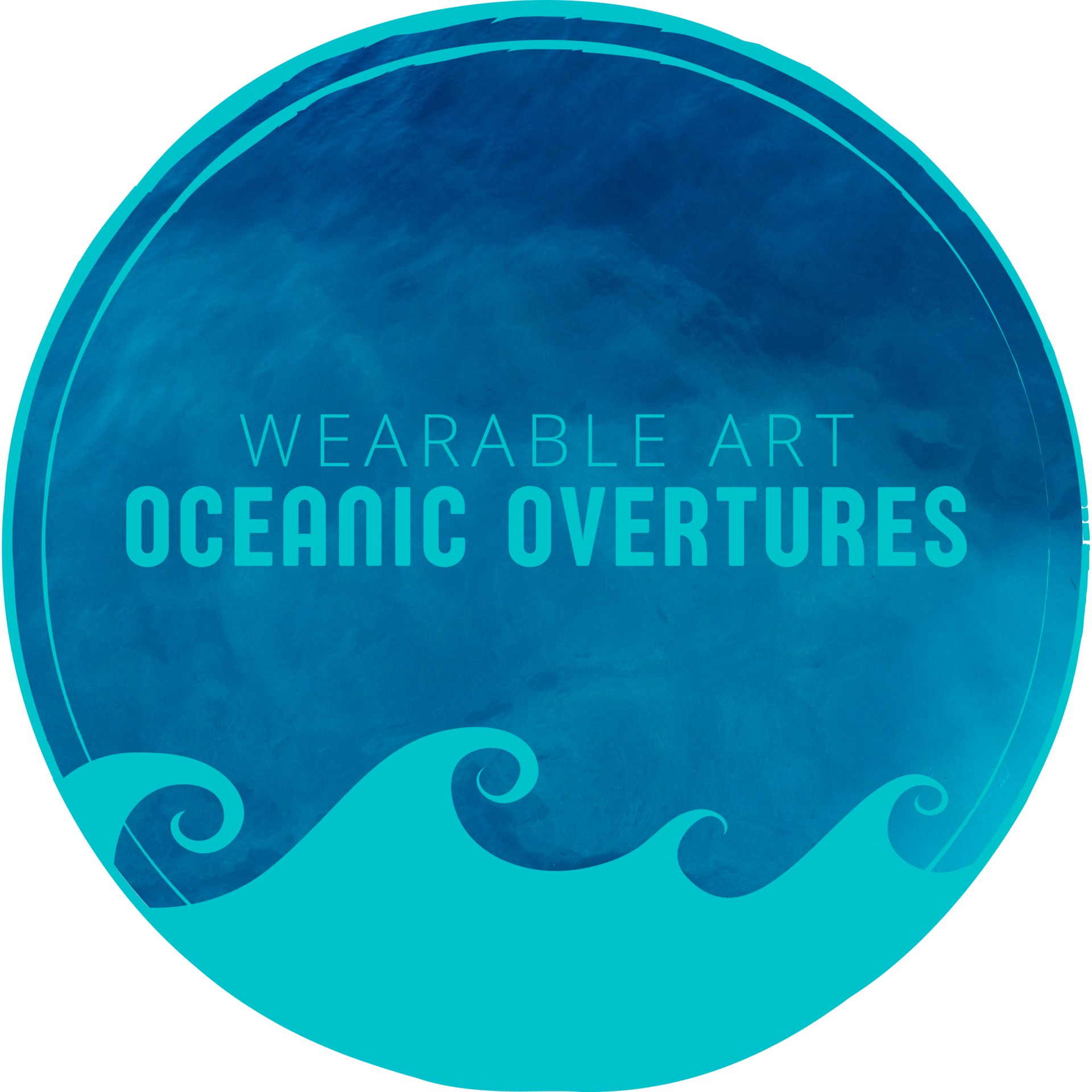 Wearable Art: Oceanic Overtures
OPENING ACT -  Juneau Dance Theatre
Georgia Post - "To Know, Water" - Model: Georgia Post
Jen Dillon - "Ex Oceano" - Model: Jen Dillon
Mary-Lou Gervais - "Phoenix Rising…Again" - Model: Mary-Lou Gervais
Kirsa & Alicia Hughes-Skandijis & Adrienne Scott - "Turn the Tide" - Model: Alicia Hughes-Skandijis
SIREN OF THE SEA - Taylor Vidic featuring Tim Powers and Kelsey Riker
Nic DeHart & Amy Dressel - "Cocktails!" - Models: Nic DeHart & Amy Dressel
K̲aachgóon - "Ya Héen Áwé Ya K̲usteeyi" - Model: Magdalena Oliveros
Mandee Collins, Chloe Benc & Anna Orendorff - "Mythical Creatures" - Models: Mandee Collins & Chloe Benc
Caryn Kraft - "Goddess Sea Dee Captured in a CD World" - Model: Kristi Kraft
Jessica Hood - "An Eternity" - Model: Ashia Skaflestad
Alisha Falberg - "Ghost" - Model: Alisha Falberg
Director's Vision Statement
Welcome to Juneau's 22nd Wearable Art Extravaganza! Since the artists, models, audience, production team, and I last gathered in Centennial Hall the world has changed and changed again. Last year we went to space and learned how to make, in essence, a Wearable Art Movie. It was a challenging and wonderful adventure that resulted in us getting to share the art with the audience in new ways.   

This year, we have returned to the stage, but certainly not completely back to normal. I couldn't be more proud of this group of artists and models who gamely participated in our collective pursuit of bringing their art and vision to the stage and the Juneau audience at home. 

Oceanic Overtures takes the audience on a deep dive in search of sequins, ocean-themed puns, and general silliness. We will bear witness to humanity's impact on the ocean, hunt for fantastical creatures, and observe marine life in their natural habitats. Although, it was tough not to fill the show with movie references, I just knew in my blue heart that it would be a mistake of Titanic proportions. Thank you for taking the plunge.  

Margeaux Ljungberg




Wearable Art Director
Land Acknowledgement
The Juneau Arts & Humanities Council would like to acknowledge that Centennial Hall sits on the unceded territories of the Áak'w Kwáan on Lingít Aaní. We thank them for their care and stewardship over these lands and waters since time immemorial, and are deeply committed to working with Indigenous Peoples to build lasting relationships that offer opportunities for connecting and engaging with our shared histories and values. These shores and waterways are deeply tied to the traditional culture and ways of life of the Lingít and we honor that heritage.
Beach Bonfire Menu
Enjoy drinks and treats outside at the Beach Bonfire before and after the show!  
Drinks by TK Maguire's 
Hot Drinks
Chocolat Peppermint Patty - $9
Hot Buttered Rum - $9
Baileys & Coffee - $8
Hot Whiskey Toddy - $9
Cold Drinks
Gin & Tonic - $9
Cinnamon Twist - $9
Alaskan Beer - $6
Corona - $6
Wine - $8 (glass) / $38 (bottle)
Hot Dogs by Blumen Dogs
The Classics - $9
The Blumen Dogs - $10
Snacks
S'Mores - $5
Candy Bar - $5
Soda - $2
Chips - $2
Oceanic Overtures Artists, Models, & Performers
Opening Act: Juneau Dance Theater
Piece Title: Turbid View
Choreography by Catherine Fowle
Dancers: Adara Allen, Mya Baird, Viktor Bell, Grace Bultez, Elizabeth Eriksen, Ainsley Mallott, Electra Morley, Abigail Portiles
1 - To Know, Water 
Artist/Model: Georgia Post
Materials: Flowy organza, LED lights, fiber optics, moldable plastic and foam
This  piece is inspired by the sea angel. I would like to thank my parents for always supporting me, my brothers, Noatak and Shea, for giving ideas and feedback, Carol Hughey, for brainstorming and advice, Mary DeSmit, for the support, and Austin Wintory for the amazing music.
2 - Ex Oceano 
Artist/Model: Jen Dillon
Materials: Filament made of recycled plastics and nylon recovered from fishing gear, tulle, optical fiber, LEDS 
Half a lifetime ago I put on headphones and fell in love with the voices in the oceans. Spectrograms and sound wave patterns help us visual humans detect and better understand the complexities of an ocean world that's illuminated primarily by sound. On this skirt are the abstracted, radial waveforms of calls from orca, beluga, walrus, narwhal, southern right whales, and bowhead whales. Thank You to Rob Mayer for technical assistance and generally nerding out with me. 
3 - Phoenix Rising…Again
Artist/Model: Mary-Lou Gervais
Materials: Scarves and feathers 
This piece is inspired by the trickery and intelligence of the RAVENS I encounter everyday, as well as by my 33 years of hiking the land and challenging myself to paddle to some of Alaska's most remote, pristine spots. I would like to thank Alan and Connie Munro, longtime educators and cultured Juneau citizens. This piece was heavily inspired by Alan's love of the outdoors and Connie's love of scarves!!! Gunalchéesh to Lingít Aaní  and to the BEARS, the humpbacks, the orcas, the sea lions and especially the baby sea otters. Thanks for keeping me safe and guiding me on MY journey. Merci Beaucoup!!!
4 - Turn the Tide 
Artists: Kirsa & Alicia Hughes Skandijis, Adrienne Scott
Model: Alicia Hughes-Skandijis
Materials: Spray Foam, Styrofoam, Plastic Mesh 
This piece contrasts a healthy coral reef with the skeletons that remain after bleaching events. These events are increasing due to human impact on our environment. A better world is possible, if we create change in time. Thanks to coral.org and all of the researchers seeking to avert disaster.
Siren of the Sea: Taylor Vidic
Saxophonist:  Tim Powers
Cajon: Kelsey Riker
Song: Cat and Mouse
Taylor is ecstatic to be back in Centennial Hall and back on the Wearable Arts Stage, this time with guitar in hand and playing alongside Tim Powers on Sax. Taking turns producing and performing, this is Taylor's preferred way of expression - playing original music, with friends, for friends. Find her on Instagram @taylordallasv and Facebook @taylorvidicmusic
5 - Cocktails! 
Artists/Models: Nic DeHart & Amy Dressel
Materials: Life Jackets, Foam, Felt, Pantyhose, Sea monkeys, 20 years of saved address labels  
Thanks to Nicolas's sewing skills and Amy's hot glue desires we transformed these life jackets into imitations of our favorite childhood pets- brine shrimp (aka sea monkeys!) Thanks to the JAHC and staff, Ron Gile, JOANN Fabrics'  app and our families and friends.  Get some popcorn and enjoy our Cocktail!!
6 - Ya H
é
en
Á
w
é Ya K̲
usteeyi
Layéxhi: K̲aachgóon
Ak'iyee shaawát: Ts'eeg̱éeni
L'aak shagóon: Néegwáli xén
Yées atx̱ has agux̱layéix̱ dleit ḵaa aayi teen. Xén tín awliyéx̱ yaat'aa l'aak, K̲aachgóon ji.eetí. Du toowáa sigóo Lingít at nané yaxh uwayaa.
Gunalchéesh:  Ax̱ shuká, Naawéiyaa, Ts'eeg̱éeni, Saaní, Aantú, Aak'w Da Sháa, Gudáang'láa, Qacung, Koolyéik, Ts'áak KaJúu, Joonilix̱éilt, Jestoni, Lily, Betsy, Margeaux, Richard, and Sarah.
7 - Mythical Creatures 
Artists: Mandee Collins, Chloe Benc & Anna Orendorff
Models: Mandee Collins & Chloe Benc
Materials: Metal cans, paper mache 
Inspired by past pieces and a love of mythical creatures. Thank you to our family and friends who drank all the weird, canned beverages Mandee bought home and then stockpiling them for our use - special thank you to my Randal for not complaining about the bags and bags of empty cans in our apartment for the last six months and to Auntie Brooke for the five dozen eggs she is going to be eating for the next six months so we could have octo suction cups.
8 - Goddess Sea Dee Captured in a CD world 
Artist: Caryn Kraft
Model: Kristi Kraft
Materials: CDs, Glass, an Old Fish Net 
Illuminating.  Enchanting. Reflective. I was inspired by the theme Oceanic Overtures and how the CD's resemble scales.  A big thank you to model Kristi Kraft who brings this mermaid to life.
9 - An Eternity 
Artist: Jessica Hood
Model: Ashia Skaflestad
Materials: Trash bags, Plastic bags 
This piece was inspired by my love for nature, especially the ocean. It is made with trash bags and plastic bags to bring awareness to plastic pollution. Thank you to Jay Hood for all his help making the dress, Ashia Skaflestad for modeling and Katelyn Savland for her help backstage. 
10 - Ghost
Artist/Model: Alisha Falberg
Materials: Alisha's dress is made from the most common types of ghost gear: pots, traps, buoys, longline gear, and trawl netting actually recovered from oceans off the coast of Alaska by organizations helping to remove ghost gear and prevent future gear from being left in our oceans (other materials include: fishing hooks, ropes, and wire, tulle, chicken wire, wood, wheels, and mussel shells). 
Ghost: to appear or become manifest. Fishing gear that has been lost or discarded in our oceans manifests as "ghost gear," trapping, entangling, or killing marine wildlife, like whales, turtles, fish, and birds. This piece's purpose is to raise awareness of this harmful marine debris issue. Alisha would like to thank NOAA's Stranding and Entanglement Response Network, NOAA NMFS Office of Law Enforcement, Chris McDowell, Lanie McCarry, Shelly Wright, Juneau Makerspace, and her husband Adam.
Thank you from the JAHC Executive Director
Welcome, and thank you for supporting Wearable Art this year. This event helps make so much possible for our whole community. Through the creative endeavors and hard work that goes into Wearable Art, so many lives are enriched: 
Every school-age child benefits from the many education programs The Council is a part of, from Artists in the Schools, to after-school art programs at Cedar Park and Geneva Woods (sadly on hiatus during Covid), Poetry Out Loud, Artful Teaching. Much of the arts education programming comes with no outside funding.

Local artists exhibit their artwork in the Gallery, many for the first time, and receive grants to take classes and grow professionally. Several hundred artists benefit from this support each year.

Students are able to go to art camps, take lessons, buy instruments, or art supplies - as many as 30 students each year can receive scholarships to encourage their growth as young artists
Families enjoy free concerts and events in the summer, travelers enjoy live music at the airport (resuming when Covid and renovations are completed), people receive awards for their service to the community through the arts. There is local poetry on the city buses. We have an online community calendar so everyone knows what is happening, First Friday is organized, and there is a box office service for the community.

New projects, Artists of All Nations, Juneau Piano Series, and more, are nurtured by the Council, serving as their fiscal sponsor so that these grassroots groups can bring joy to Juneau. The Council coordinates advocacy efforts and re-grants city funds to other nonprofits. These administrative services are added to the operating budget too.

The Juneau Arts & Culture Center and Centennial Hall are operated by The Council, and are available for gatherings of all kinds - celebrations, meetings, exhibits, performances, even roller girl practice.The rent is reasonable, the staff is capable and welcoming, and the venues strive to make everyone welcome, usually bursting with activity - even in these pandemic times!
The Council provides all of these things out of its operating budget. Wearable Art makes all of this, and more, possible. These things happen because of the amazing contributions of our artists and community members each year at the annual Wearable Art Extravaganza. Your efforts support all that the Council brings to the community, which means that YOU bring these things to the community. 
Juneau was previously named to the list of the Top 10 Most Culturally Vibrant Small Arts Communities in the United States. This event is in the forefront of that vibrancy - creative people doing creative things, sharing their talents to build a magical place to live. 
Thank you again, please enjoy the show. 
Nancy DeCherney, JAHC Executive Director
Sybil Davis Award (People's Choice)
Voting has concluded, the winner will be announced soon!
The Living Gallery
Mark your calendars for the Wearable Art Living Gallery on Friday, March 4 from 4:30-7 PM at the JACC. This is your chance to see the pieces from Oceanic Overtures in person, speak with the artist(s) and model(s), and continue to support our fundraising efforts. Suggested donation of $10 to attend.
JAHC Scholarships & Grants
The Juneau Arts & Humanities Council invests in the community through financial support and assistance to students, individual artists, and arts organizations. Wearable Art is the primary fundraiser for these awards. Awards and amounts will be predicated on the success of the fundraising efforts.
SCHOLARSHIPS & GRANTS AVAILABLE:
Honoring Deborah Smith
This year we're honoring past Wearable Art Director Deborah Smith. She directed the Wearable Art Extravaganza from 2004-2008.
2004 "Rampaging Imagination"
Director Deborah Smith
Set Designers Carol Tocco, Jane Stokes, Katie Corbus
MCs Collette Costa & Ben Brown
2005 "Carnival of the North"
Director Deborah Smith
Set Designers Bauer|Clifton Interiors, NorthWind Architects
MCs Collette Costa & Ben Brown
2006 "Between the Tides"
Director Deborah Smith
Set Designers Bauer|Clifton Interiors, NorthWind Architects
MCs Collette Costa & Ben Brown
2007 "Solstice to Solstice"
Director Deborah Smith
Set Designer Bauer|Clifton Interiors
MCs Ron Clarke, Sharon Gaiptman
2008 "Mechanical Marvels"
Director Deborah Smith
Set Designers Bauer|Clifton Interiors, NorthWind Architects
MCs Sharon Gaiptman, Mike Doogan
For a more in depth look at Wearable Art through the years, visit the Davis Gallery in the Centennial Hall Lobby. This exhibit will be up through the month of February. 
Event Cast & Production Crew
Wearable Art Director: Margeaux Ljungberg
MCs: Ericka Lee, Richard Carter
Producer: Juneau Arts & Humanities Council
JAHC Executive Director: Nancy DeCherney
Production Director: Kathleen Harper
Artistic Producer: Sarah Wallace
Set Designer / Construction Manager: Bing Carrillo
Construction Crew: Don Larson, Jim Simard, Sue Schrader, Jim Heumann
Lighting Designer: Mike Inwood
Lights Focus: Jeff Rogers, Bo Anderson
Audio Engineer: Betsy Sims, Studio A Juneau
Stage Manager: Kathleen Harper
Video & Multimedia Technical Direction: Mikko Wilson
Artist Liaison: Michelle Morris, KD Roope
Model Coach: Melissa Patterson
MC Costumes: Reggie Schapp
MC Hair & Make Up: Brie Artistry
Online Auction Goddess: Traci Ferguson-Hayes
Jurors: Keren Goldbergbelle, Jesse Riesenberger, Rick Wolverton
KTOO TV Director: Mikko Wilson
KTOO TV Sound: George Kuhar
KTOO TV Cameras: Gabe Donohoe, Dian Martin, Terry Tavel
KTOO TV Camera Color: Bob Lauri
Social Media Manager: Brita Fagerstrom
JAHC Staff: Jesse Adams, Shawn Billy, Robert Biddinger, Rachelle Bonnett, Augusto Campos, Nancy DeCherney, Traci Ferguson-Hayes, Kathleen Harper, Mike Inwood, Leonard Johnson, Vincent Murrain, Laura Miko, Jessica Milnes, Melissa Patterson, Mark Penamora, Joselyn Ribao, Reggie Schapp, Robert Stephenson, Dylan Taylor, Melanie White
Backstage Shepherd: Melissa Hill
Backstage Gate Keeper: Melissa Patterson
Stage Hands: Hannah Tanha, Christine Carpenter, Maggie Rabb, Ian Rabb
Graphic / Web Design: Rachelle Bonnett
Bookkeeping: Bridget Lujan, CPA
Ticketing Services: TicketSearch
Beach Bonfire Bar: TK Maguire's, Blumen Dogs
Photography: Heather Hintze
Printing: Capital Copy, Alaska Litho
Juneau Dance Theatre Dancers: Adara Allen, Mya Baird, Viktor Bell, Grace Bultez, Elizabeth Eriksen, Ainsley Mallott, Electra Morley, Abigail Portiles
Siren of the Sea: Taylor Vidic with Tim Powers & Kelsey Riker
JAHC Board of Trustees
Abel Ryan - President
Bing Carrillo - Vice President
Jeana Varney - Secretary
Joy Demmert - Treasurer
James Bibb
Vincent Cheng
Davina Cole
Jim Heumann
James Hoagland
Flordelino Lagundino
Jackie Manning
Sue Schrader
Miriah Twitchell
Share your photos with us on Social Media
Follow @wearable_art_juneau & @juneau_arts_council on Instagram. Use the hashtag #juneauwearableart and #oceanicovertures!
Become a Member
The Juneau Arts & Humanities Council is able to provide all the amazing services it does through the incredible generosity of local residents and businesses just like you. Basic membership is $40 for an individual, $25 for a student or senior, and $75 for a family. Thank you to all of our current individual and businesses members!
Become an Affiliate
Affiliate members are local arts & culture organizations and local non-profit organizations who commit to helping make the Juneau Arts & Culture Center a bustling, vibrant, and valuable part of the community. Membership levels are based on your organization's annual budget. A special thank you to our current 2021-22 Arts Affiliate Members! Learn more www.jahc.org/join/arts-affiliate/
Donate!
In addition to becoming a JAHC member or an Arts Affiliate, there are other ways to support the Juneau Arts & Humanities Council. You can donate directly to fine art scholarships, artist grants, in memory of a loved one, or to the arts endowment fund.
Wearable Art 2022 is sponsored by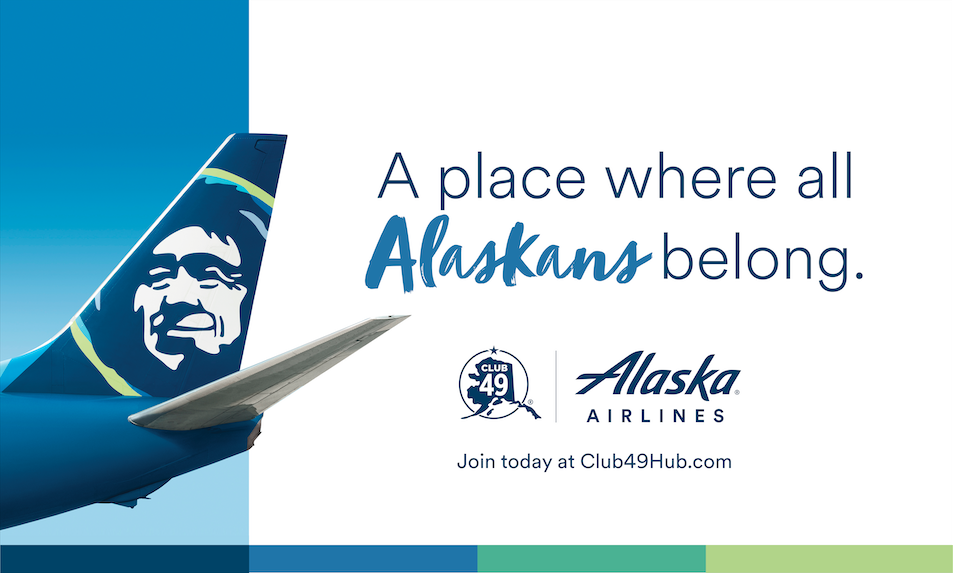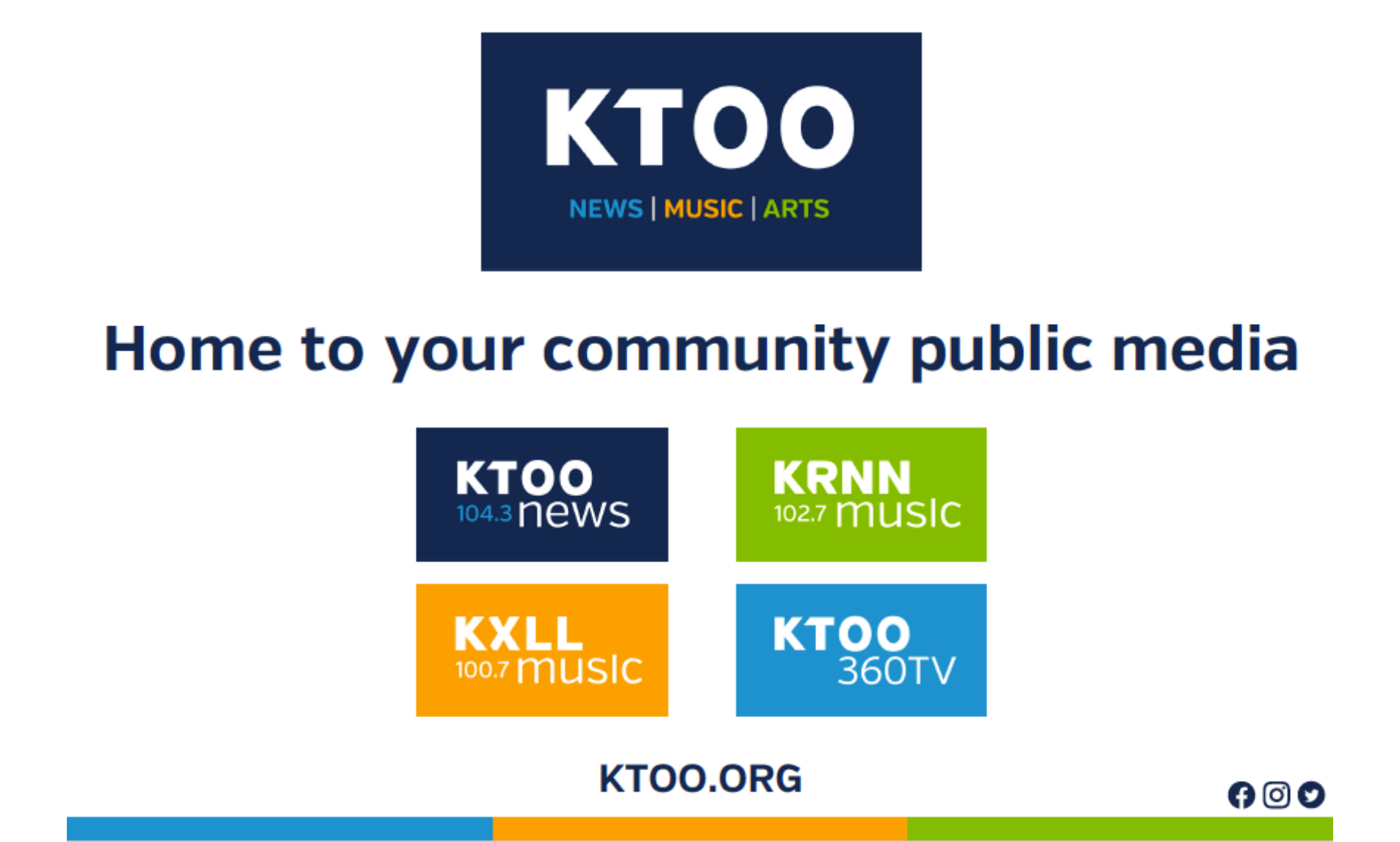 Wearable Art 2022 Advertisers