Celebrating Juneau's Creative Citizens, Organizations, and Businesses
Juneau's extraordinarily rich arts and culture environment is due to the enthusiastic, exuberant creativity of its citizens. In 2007, Mayor Bruce Botelho instituted the first annual Mayor's Awards for the Arts to highlight and honor individuals and businesses in Juneau who are notable for their contributions through the arts to our town.
It was with great sadness that we learned of the passing of Kathy Kolkhorst Ruddy on September 10, 2020. Many of you knew her and know of her many, many contributions to the arts and culture community in Juneau, her exceptional generosity and kindness to so many people. In recognition of her years of inspired leadership and service, the Board of Trustees of the Juneau Arts and Humanities Council voted to change the Mayor's Awards for the Arts to the Kathy Kolkhorst Ruddy Awards for the Arts.
2022 recipients
The Juneau Arts & Humanities Council is pleased to announce the 2022 recipients of the Kathy Kolkhorst Ruddy Awards for the Arts: 
Patron of the Arts - Bing Carrillo
Inspiration and Innovation in the Arts - Melissa Leeanne Bakes
Arts in Education - Michael Bucy
Lifetime Achievement in the Arts - Charles Rohrbacher
Business Leadership in the Arts - Wooshkindein Da.aat | Lily Hope Weaver Studio
Arts Organization - Theater Alaska
Volunteer for the Arts - Annie Calkins
Please join us at the award's ceremony and help us congratulate these leaders in the arts community. This year's awards will be presented on Saturday, September 10 during the September Fresh Air Market, starting shortly after 12:30pm.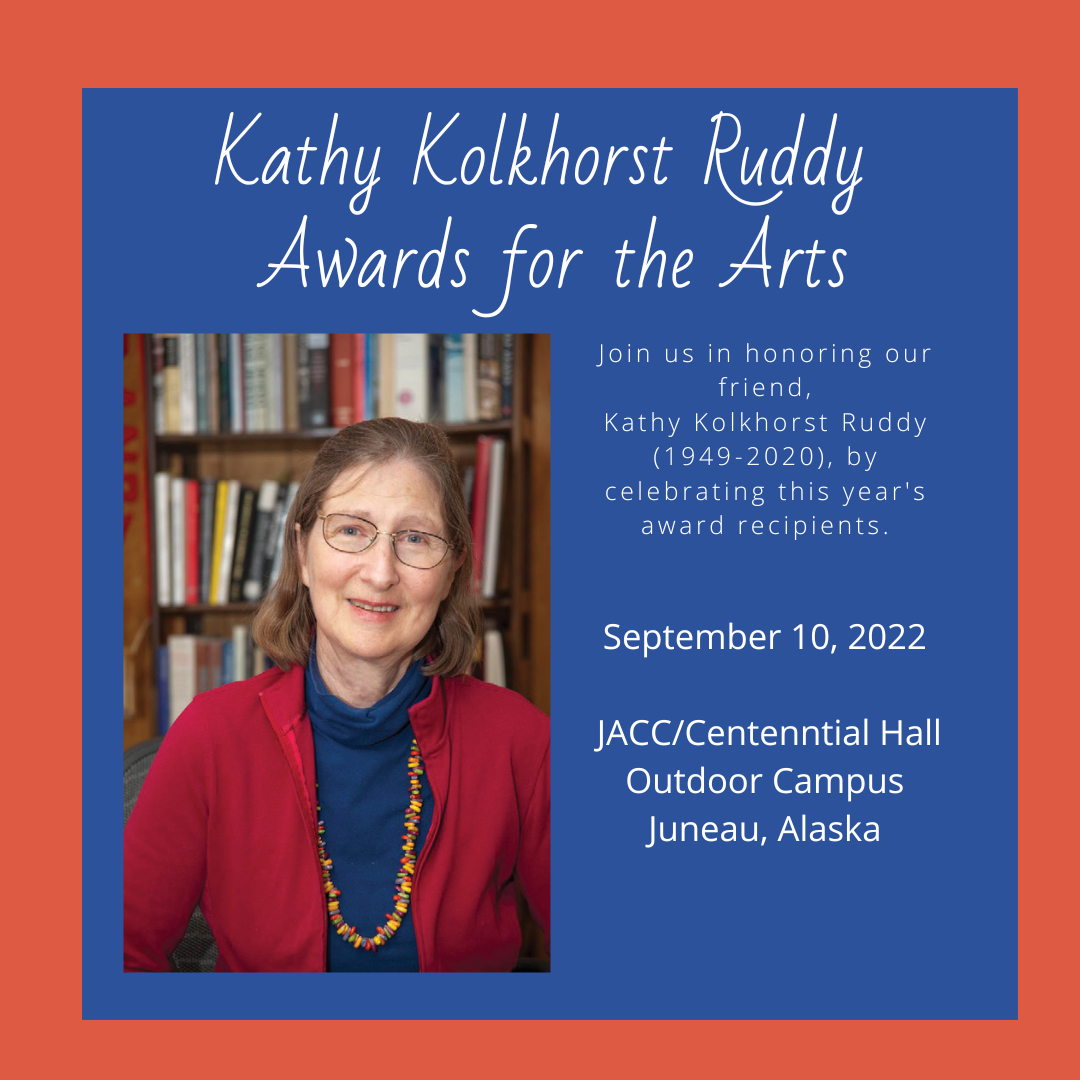 Artist

2007 Heather Haugland and Antonio Diaz
2008 Barbara Craver
2009/10 Sue Kazama
2011 Della Cheney
2012 Dan Hopson
2013 Christy NaMee Eriksen
2014 Dan Fruits
2015 Pat Belec
2016 Vera Starbard Bedard
2017 Frank Kaash Katasse
2018 Lily Hope
2021 Rob Cohen
Arts in Education

2007 Lorrie Heagy
2008 Julia Bastuschek
2009/10 Shona Strauser
2011 MK MacNaughton
2012 Nancy Lehnhart & Mimi Mendica
2013 Shgen George
2014 Jan Niemeyer (Posthumously)
2015 Heather Ridgway
2016 Jim Fowler
2017 Miah Lager
2018 Full Circle Music, Greg Burger and Mary DeSmet
2021 Amy Rautiainen, Arts Educator
Arts Organization

2013 Alaska Folk Festival
2014 Juneau Symphony
2015 Juneau Lyric Opera
2017 Miss Gigi Monroe (James Hoagland), Achievement in the Arts
Business Leadership in the Arts

2007 Annie Geselle and REACH/The Canvas
2008 Candy and Dick Behrends, Behrends Mechanical
2009/10 Alaska Litho
2011 Elgee Rehfeld Mertz, LLC
2012Alaskan Brewing
2013Amy Fletcher (Professional Leadership in the Arts)
2014 Alaska Airlines
2015 Annie Kaill's
2016 Alaska Music One
2017 Studio A - Betsy Sims
2018 Capital Copy, The Melvilles
Innovation and Inspiration in the Arts

2007 Alberta Aspen, Our Auntie's House
2008 Alice Tersteeg
2009/10 Adele Hamey, Taku Graphics
2011 Theatre in the Rough
2012 Lucid Reverie
2013 Guo Hua Xia (Visionary Application for the Arts)
2014 Mudrooms (Visionary Application of the Arts)
2015 Ron Giles, Juneau Photo Group
2016 Mark Kelley
2017 Tom Locher
2018 Collette Costa
2021 Ceann Murphy
Lifetime Achievement in the Arts

2009/10 Janice Holst
2011 Susan Burke
2012 Buddy Tabor (posthumously)
2013 Natalee Rothaus
2014 Sharron Lobaugh
2015 Linda Rosenthal
2016 R.T. Wallen
2017 Mary Watson
2018 Sherry Patterson
2021 Janet Hall Schempf
Patron of the Arts

2008 Ron and Kathy Maas
2009/10 Lucy Merrell
2011 Sharon Gaiptman, Missouri Smyth, Deborah Smith (King Island Christmas production)
2012 Bruce Simonson
2013 Bruce Botelho (Advocate for the Arts)
2014 Wendy Wolf and John Osborne
2015 ConocoPhillips
2016 Scarlett Adam, for Leadership in the Arts
2017 James Barron
Volunteer

2007 Susan Fitzgerald
2008 Jim Simard
2009/10 Peter Freer
2011 Dan Beason
2012 Bing Carrillo
2013 Kathy Ruddy
2014 Lyle James
2016 Jeff Duvernay
2018 Linda Kruger and Jeff Gnass
2021 Jacque Farnsworth