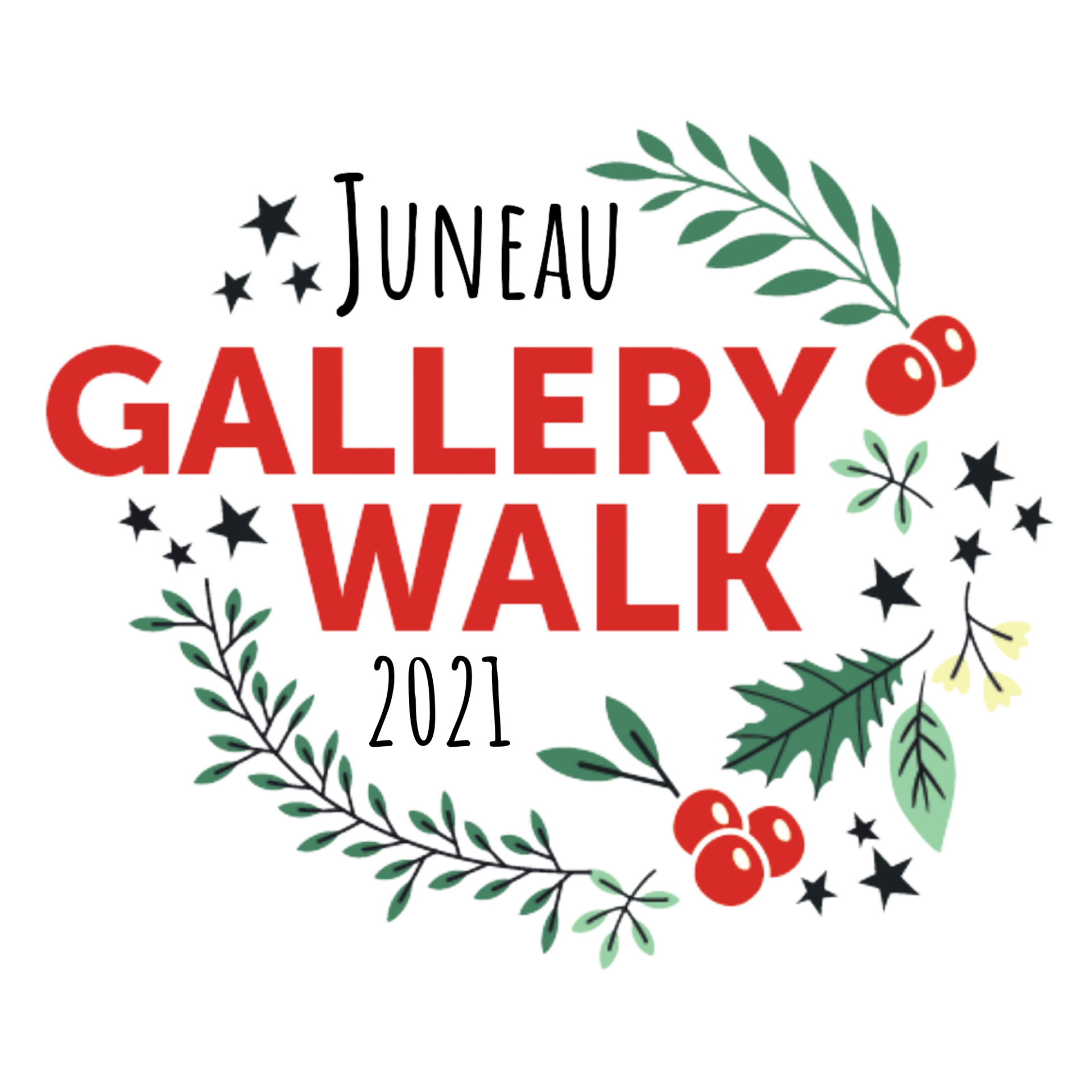 Join us and the Downtown Business Association this year on Friday & Saturday for an extended Gallery Walk.
Per recommendation from Juneau's EOC, we will be encouraging masking outdoors in crowded areas and per the current set of CBJ Mandates, masks are required when indoor at public places. Please check the locations you plan to visit for their individual mitigation plans, as some will require proof of vaccination to attend.
Scroll down for more details, the schedule of events, and a downloadable program & map!



Schedule of Events
December 3 • 4:30 - 8:30 PM
Front Street will be closed for non-profit booths and live entertainment
Look for Santa, he'll be giving out candy canes on Front Street & beyond
Art exhibits, specials, fundraisers, pop-ups, & demonstrations will be happening across Downtown Juneau (scroll down to see all participants)
Juneau Tours Trolley will be operating along South Franklin (masks required)
December 4 • 10 AM - 6 PM
DBA & the Juneau Radio Station with be at Front Street/Seward Street doing hourly drawings for downtown gift baskets and Local Frequency Gift Cards from 12:00 – 4:00 PM
Njuzu Marimbas perform at the JACC starting at noon
Art exhibits, specials, fundraisers, pop-ups, & demonstrations continue (scroll for more details)
Gallery Walk Program & Map
Click the buttons below to download a program & map directly to your smartphone. Limited printed programs and maps will be available at the JACC.
Featured Events
On Front Street
Entertainment Line-up
JAMM • 5:00 - 5:30 PM
Vox Borealis • 6:10 - 6:50 PM
JDHS Dance Team • 7:00 - 7:30 PM
Juneau Drag • 7:35 - 8:05 PM
Nonprofit Booths
Catholic Community Services, TMHS Rotary Interact Club, JDHS Dance Team, Juneau Symphony, Orpheus Project, TMHS Sources of Strength
__________________________________________________________________________________
At the JACC & Centennial Hall
Art Exhibits
Davis Gallery at Centennial Hall: Alaska Ability Arts Closing Reception, 4-6 PM
JACC Gallery: Fawn Waterfield Solo Exhibit Opening, 4:30-7 PM
Gallery Walk Market

Visit the JACC Main Hall for local artists & vendors from 4:30-7 PM -- featuring booths by: Collective49, Juneau Disc Golf Club, NAMI Juneau, Bird Nest Pottery, Musical Menagerie, Paula's Pies, Raindrop Soaps, Sweet Harriet, The Bear House, Smitten Mitten, Throwing Olives, Trade Lake Co, & .andclay.
What's Happening Around Town All Weekend
Scroll to see all events:
Are you a business, artist, or organization participating this year? Get your event added to this gallery - submit your information through this FORM.