Markets & Vendor Opportunities
The Juneau Arts & Humanities Council organizes many in person markets throughout the year, providing opportunities for local artists, vendors, and small business owners to sell their products. These markets are free to attend, so grab your friends and shop local!
Current Markets and Vendor Opportunities:
Stuffed! Holiday Market - December
Pumpkin Spice Fall Market - October
Travel Fair Outdoor Market - April
Fresh Air Markets - May thru September
Food Festival & Farmers Market - August
VENDORS: Scroll down for more information about Stuffed, Pumpkin Spice, and Fresh Air Markets, and to apply for a booth. For information on the Food Festival & Farmers Market, click HERE.
Please take a moment to read about DEC requirements for cottage foods, temporary food service permits, sales tax, and business license requirements - detailed at the bottom of this page. Vendors who participate in JAHC-sponsored markets are responsible for making sure they are in compliance with all City and State requirements. 
Pumpkin Spice Market - October
"Pumpkin Spice" & everything nice! This event is a great opportunity to get a head start on your holiday shopping and support local artists, businesses, and organizations. Join us on Saturday, October 21 from 10am-2pm at the JACC! Costumes are encouraged.
Vendor registration is now open. To register for a booth, click HERE.
Stuffed! Holiday Market - December
This market features gifts made/designed in Alaska... perfect for stocking stuffers or unique gifts for your loved ones. All products sold during this market are $25 or less! Thanks to all our vendors and to the community for making our 2022 market a huge success!
Please check back for information regarding Stuffed! in the fall of 2023.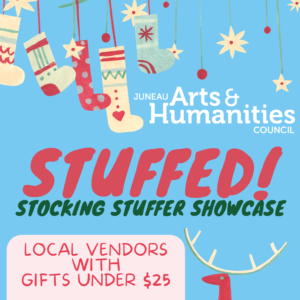 Fresh Air Markets - Summer
The 2023 Fresh Air Markets have wrapped up for the season! Check back in the new year for 2024 registration links and more info. 
Created during the summer of 2020, Fresh Air Markets are monthly outdoor markets that support local artists, musicians, and vendors during the summer months. These events run 10 AM - 1 PM in the Centennial Hall/ JACC Arts Campus and are free to attend! 
Travel Fair Market
Join us during year's Travel Fair for an outdoor vendor market!
When: Saturday, April 22, 2023
Time: 10am-2pm (setup will begin at 9am)
Where: Centennial Hall/JACC Outdoor Campus
All vendor booths will be set up outside. We strongly encourage vendors to provide your own equipment, but if you need to rent tables, chairs, or tents from us, please indicate when you fill out the vendor application form.
Please check back about the next Travel Fair Market in the spring of 2024.
Cottage Foods & Temp. Food Service Permits
We welcome food vendors to sign up for our markets! Food trucks or related food vendors, and those selling cottage foods are responsible for making sure they are in compliance with DEC requirements for food safety and have the appropriate temporary food service permits, if applicable.
"Cottage Foods" include baked goods, jams, jellies, and similar items that do not require refrigeration or freezing to be safe to consume. Vendors that sell these types of items will need to make sure that:
If the food is not prepared in a permitted, approved, or inspected kitchen, inform the consumer by a card, placard, sign, or label placed in a conspicuous area that states the following: "THESE PRODUCTS ARE NOT SUBJECT TO STATE INSPECTION."
If packaged, label packaged food with either: an Alaska Business License number OR the name, physical address, and telephone number of the individual who prepared the food. This allows DEC to trace the product back to the producer if there is a problem or complaint.
Have the recipe or formulation available in case of questions.
Be able to provide information on ingredients and allergens, and how it was processed, prepared, and packaged.
More information on the "Cottage Foods Exemptions" and what foods would qualify can be found here: https://dec.alaska.gov/eh/fss/food/retail/cottage-food/
Food vendors selling to the public, unless they fall under a qualifying exemption, must be permitted prior to operation. Not sure if you need a temporary food service permit? More information can be found here: https://dec.alaska.gov/eh/fss/food/retail/temporary-food-service/
State Business License & CBJ Sales Tax Requirements