Markets & Vendor Opportunities
The Juneau Arts & Humanities Council will be bringing the Juneau community in-person markets throughout the year. These markets are free to attend, so grab your friends and shop local!
COVID precautions and mitigation will be in operation during all markets, and vendors will be refunded if the event is cancelled due to COVID-19.
Markets and Vendor Opportunities:
Stuffed! Holiday Market
First Friday Markets
Fresh Air Markets
Scroll down for more information about each Market and to apply for a booth.
For information on the Food Festival & Farmers Market, go to: www.jahc.org/box-office/food-fest/
Musicians & Performers: Sign up to perform at our Fresh Air Markets here.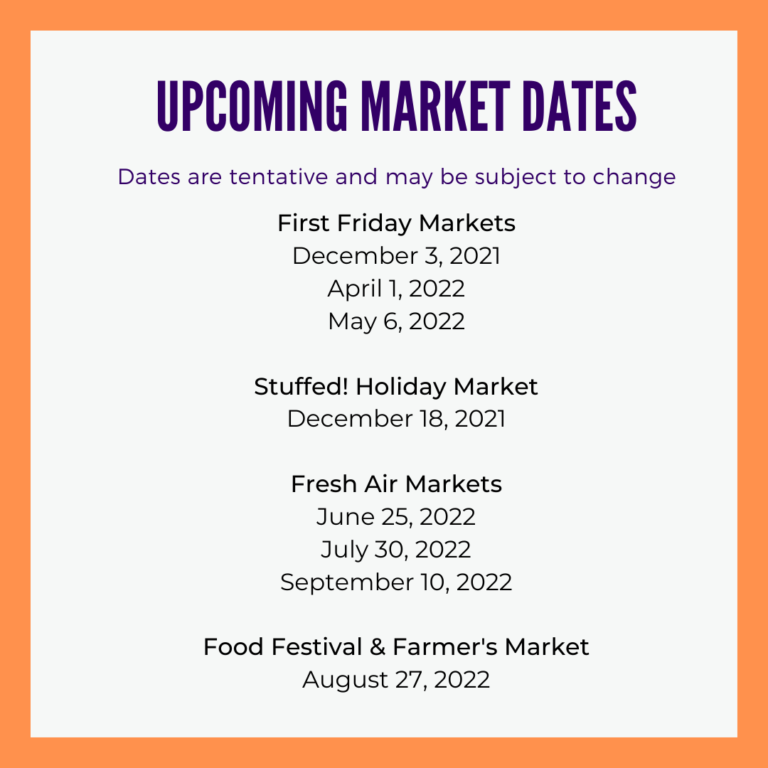 Fresh Air Markets

DATES: June 25 / July 30 / September 10
WHEN: 10 AM - 1 PM 
WHERE: JACC / Centennial Hall Outdoor Campus  
Join us on June 25, July 30, and September 10 in 2022 from 10 AM - 1 PM in the courtyard / parking lot between Centennial Hall and the JACC. Fresh Air Markets are free to attend! Grab your friends and family and head down to support  local vendors and musicians. 
Vendor booth space is $30. Vendors should bring their own tables, chairs, and tents and are responsible for set up and take down of their booths. Tables, tents, and chairs are available to rent for an additional fee.
Interested in becoming a vendor? Apply online today! 
First Friday Markets

DATES: December 3 / March 4 (CANCELLED) / April 1 / May 6 **
TIME: 4:30pm - 7pm
WHERE: JACC Main Hall **
Join us in supporting our local artists during the first Fridays of the month this season. First Friday Markets are free to attend, so grab your friends and shop locally!
**Note: Locations/dates vary based on rental needs and COVID requirements and may be subject to change. Masks are required for all JAHC events.
Interested in becoming a vendor? Please fill out the VENDOR REQUEST FORM.
Booth fee is $30 and includes 1 table (size 18"x6') and two chairs. After you apply, we will contact you with an invoice if you are an approved vendor or if you've been placed on the waitlist.
COVID Requirements: Due to CBJ guidance and JAHC policies, masks will be required for all vendors and attendees. 
Stuffed! Holiday Market

This market features gifts made/designed in Alaska... perfect for stocking stuffers or unique gifts for your loved ones. All products sold during this market are $25 or less! Check out the event on Facebook!
COVID-19 Requirements: All vendors and attendees will be required to show proof of COVID-19 vaccination and wear masks at all times.
Stuffed! Vendor List
Swallow's Journey
Tide Watcher
ImSewBusyAK
Musical Menagerie
Tristan Berkey Designs
Nanas Attic
Lotties eye
Eldred Rock Lighthouse Preservation Association
Patti Hutchens Jouppi Art
Blue Mountain Bracelets
Bronze Betty Finery
Tailfeathers
The Bear House
North Country Images
Meet me In Alaska
KTOO Public Media
MesdagStitch
Ceramics
Ooh! Shiny!
Dragonfli Designs
Salt & Soil Marketplace
Sweet Harriet
Interested in becoming a vendor? Fill out the vendor application and our staff will follow up with more information.