Juneau's Annual Food Fest / Farmers Market 2023
The Annual Food Fest fosters sufficiency by bringing together consumers, growers, and producers of local foods and products with the intent of encouraging local sustainability through backyard gardening and small-business initiatives. This is also an opportunity for nonprofits and other vendors to raise awareness and funds through the sale of produce, baked goods, crafts, & other items made from locally harvested ingredients.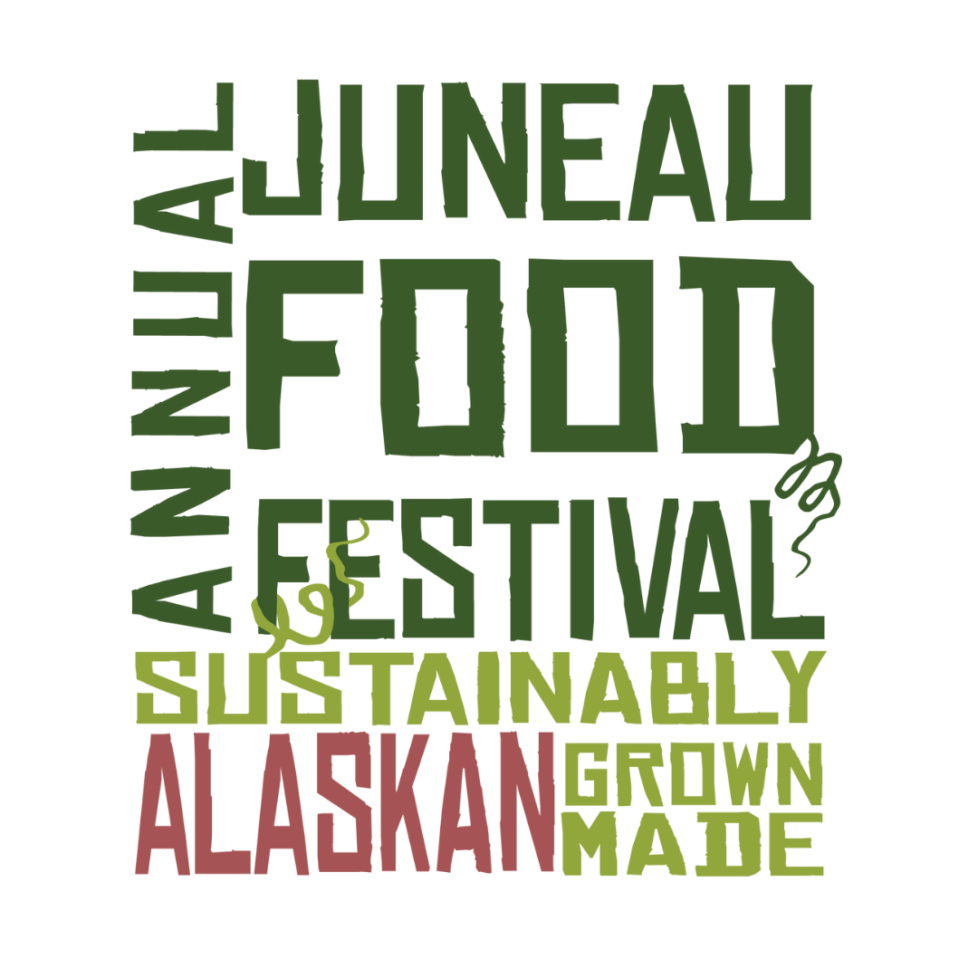 Event details: 
When: Saturday, August 26: 10 am - 2 pm
Where: In the Juneau Arts & Culture Center and outside in the parking lot between the JACC and Centennial Hall
This is a free community event!
Featuring over 40 vendors selling fresh produce, jellies & jams, baked goods, home/beauty products, arts, crafts, & more!
Event schedule: 
Vendors will be on site from 10am-2pm selling their products. Some vendors sell out early so make sure to stop by in the morning for the best choices!
Check out the workshops and demos happening in the gallery or at vendor booths.
Devil's Hideaway, Four Plates Cocina & Restaurant, and Devil's Hideaway will be outside in the food truck court serving up delicious food for lunch.
We'll also have live music outside during the event!
2023 Food Fest Vendors
Twhrly Whrliys Cotton Candy • Word of Mouth Soap • Auke Bay Yoga • Tidal Wood Food & Forage • Worthy Seafoods • Ed's Edible Landscaping • Little Glass Garden • Juneau Community Garden • Four Plates Cocina Restaurant • Raindrop Soaps • Naturally Juneau • Huntley Wood Crafts • Juneau Arts & Humanities Council • Devil's Hideaway • Meet Me in Alaska • Throwing Olives • Juneau Greens • Just for the Neck of It • T&G Studios 907 • Mayeda Treats • Local Culture • Salty Lady Seafoods • Aurora Designs • Luwees Adventures • Smitten Mitten • Juneau CASA • Pruett's Products • Gloink • Juneau Woolies • Bofur's Bakery • 907 Chrome Cult • Paula's Pies • The Bear House • Alaska Life Photography • Killer Whale Arts & Crafts • Juneau Chamber of Commerce • UAF Cooperative Extension & 4-H • Juno Party Animals • El Chingon • Elevated Life • Natural Resources Conservation Service • Musical Menagerie • The Partnership • Lee Burkhart Carvings
FUNDRAISER for any given child
Location: at the JAHC booth inside the Main Hall
Purchase $1 raffle tickets for a chance to get yourself a Jetson Bolt Pro folding electric bike!

Ice Cream by donation from JAHC Staff!

All proceeds will benefit the Any Given Child Program.

Learn more about this program: www.jahc.org/any-given-child/
gaming permit #2827
Food Fest Workshops
10:30 AM: Becky Fletcher with the State of Alaska DEC | Food permitting & cottage foods
11:30 AM: Sarah Dolan with Rising Tide Farm | Harvesting dahlias - dividing & storing
12:30 PM: Sarah Lewis with UAF Cooperative Extension | Canning & food preservation demos
Workshops will be located in the Juneau Arts & Culture Center Gallery!
Food Fest Musicians
10:00 AM | Douglas Badilla, Motown
11:00 AM | Student Performance, Violin
12:00 PM | Dr. Ache, Electronic
1:00 PM | Lisa Puananimōhala'ikalani Denny, Ukulele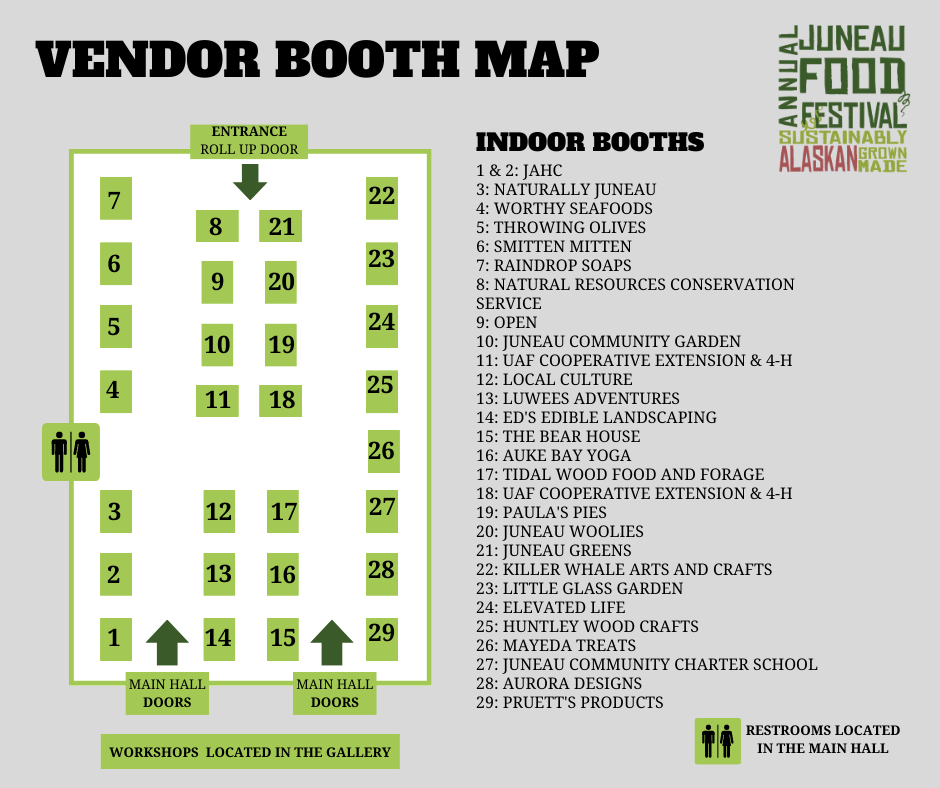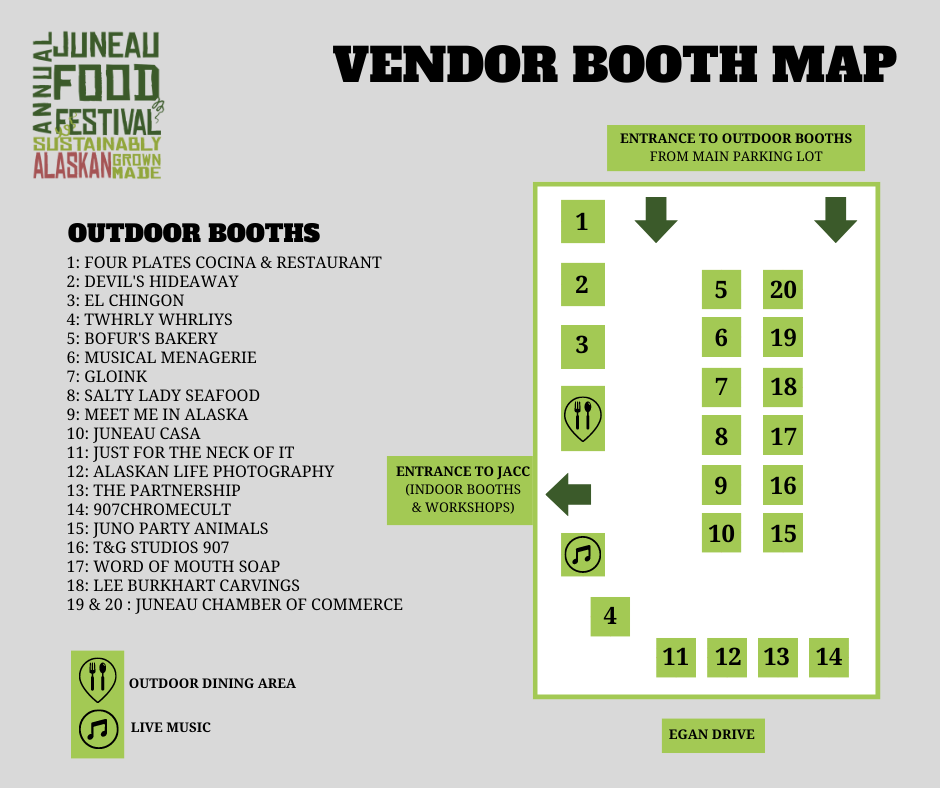 Vendor Registration & Responsibilities
Vendors are responsible for understanding and following DEC guidelines, obtaining proper food permitting (if applicable), and ensuring they meet state business license and CBJ sales tax requirements prior to this event. More information related to these requirements can be found at these helpful links:
UPDATE: Booth reservations have closed for this year's Food Festival. Did you miss the deadline? Please send an email to: rachelle@jahc.org to see if any booth spaces are available. 
Indoor and outdoor booth spaces are available for $50 and include a table and two chairs. The following add-ons are available for an additional fee:
Tent (outdoor booth only): $20
Table: $10
Electricity (indoor booth and food trucks only): $5
Note: as you choose your booth - indoor booths can be individually reserved and outdoor booths are categorized as "general admission". If you would like an outdoor booth space, you can choose between a regular booth ($50) or a booth with a tent ($70). We have limited tents available and strongly encourage vendors to bring their own for this event if they can.
If you need help reserving a booth or have any questions, please send an email to: rachelle@jahc.org or traci@jahc.org.
Cottage Foods & Temp. Food Service Permits
Food trucks or related food vendors, and those selling cottage foods are responsible for making sure they are in compliance with DEC requirements for food safety and have the appropriate temporary food service permits, if applicable.
"Cottage Foods" include baked goods, jams, jellies, and similar items that do not require refrigeration or freezing to be safe to consume. Vendors that sell these types of items will need to make sure that:
If the food is not prepared in a permitted, approved, or inspected kitchen, inform the consumer by a card, placard, sign, or label placed in a conspicuous area that states the following: "THESE PRODUCTS ARE NOT SUBJECT TO STATE INSPECTION."
If packaged, label packaged food with either: an Alaska Business License number OR the name, physical address, and telephone number of the individual who prepared the food. This allows DEC to trace the product back to the producer if there is a problem or complaint.
Have the recipe or formulation available in case of questions.
Be able to provide information on ingredients and allergens, and how it was processed, prepared, and packaged.
More information on the "Cottage Foods Exemptions" and what foods would qualify can be found here: https://dec.alaska.gov/eh/fss/food/retail/cottage-food/
Food vendors selling to the public, unless they fall under a qualifying exemption, must be permitted prior to operation. Not sure if you need a temporary food service permit? More information can be found here: https://dec.alaska.gov/eh/fss/food/retail/temporary-food-service/
State Business License & CBJ Sales Tax Requirements