The Juneau Arts & Humanities Council, in partnership with KTOO presents Art Glasses, afternoons and evenings of hands-on art, community, and fun!
Art Glasses is a workshop series featuring everything from wreath floral design, jewelry making, watercolor painting, printmaking, cooking, & more! These workshops feature your favorite local artists - usually (but not always) every second Thursday of the month.
UPCOMING WORKSHOP:
Holiday Watercolor Cards with Hollis Kitchin
When: Thursday, December 8, 2022, 5-7 PM
Where: at the Crystal Saloon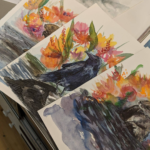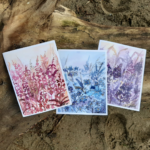 COMING SOON!
Workshops beginning in 2023:
Indian Cooking Class
Cake Decorating
Macrame
Floral Wreaths
We are finalizing workshop details, artists, and locations -- keep an eye out for more information!