The Juneau Arts & Humanities Council is pleased to announce the 2023-24 Gallery Season:
At the Juneau Arts & Culture Center
October 2023: Robert "Bo" Anderson | Amanda Faith Thompson
November 2023: UAS Northwest Coast Design Student Art Show
December 2023: Juneau Printmakers
January 2024: Ashley Lohr | Charles Vice
February 2024: David Wetzel
March 2024: Natalie Weinberg
April 2024: UAS Ceramics Student Art Show
May 2024: Rebecca Hsieh
June 2024: SHI Juried Youth Art Show
July 2024: Alana Medel
August 2024: Timi Johnson | Tawny Darling
September 2024: Avery Skaggs
At the Davis Gallery in Centennial Hall 
January-March 2024: "North-South", a collection of photographs captured between Alaska and Mexico featuring urban images and art in nature by Teri Tibbett.
April-June 2024: "Juneau Wildlife Portraits – Photographs and Paintings", featuring wildlife photographs by Christopher Grau and original acrylic paintings by Susan Watson.
July-September 2024: "I can't do it right, so do it wrong. The art of Imperfection", a mixed media showcase of paper quilling, pen sketches, and abstract paintings by Keren Goldbergbelle | "Splash", a collection of photographs featuring a combination of flash and timing techniques by Bing Carrillo.
About the Juneau Arts & Humanities Council Gallery Program
The JAHC Gallery Program supports both established and emerging Alaskan artists showing new works, while representing the broadest spectrum of visual art media.
There are currently two gallery spaces available to artists: the Arts Council Gallery at the Juneau Arts & Culture Center (JACC), the Davis Gallery in Centennial Hall. Choose from the buttons below learn more about each gallery space and see what's on exhibit!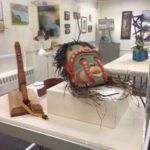 More Information
For more information about the Gallery Program, contact Rachelle Bonnett, Gallery Manager at (907) 586-2787 or by emailing rachelle@jahc.org. Applications for the Gallery Season are typically posted in March and due at the end of April each year. Visit the Calls for Art page additional opportunities.