Applications for the 2023/24 Gallery Season Are Now Open!
The Juneau Arts & Humanities Council is now accepting exhibition proposals for the upcoming Gallery Season running October 2023 through September 2024. Scroll for application guidelines and instructions for how to apply. 
Questions? Contact the JAHC Gallery Manager Rachelle Bonnett by emailing rachelle@jahc.org or by calling (907) 586-2787. 
Application Guidelines
Individuals, groups, and organizations are invited to apply; preference will be given to applicants currently living in Alaska, particularly JAHC members in good standing. Selected artists will display their work for the duration of approximately one month at the Juneau Arts & Culture Center Gallery with an opening reception during First Friday. 
The Juneau Arts & Humanities Council welcomes original artwork created within the last three years and not previously exhibited in Alaska (including virtual galleries). Artists who have participated in the JAHC Gallery Program in the last two years with a solo exhibition are not eligible to apply. Artwork should not violate city, state, or federal laws, or endanger viewers. Applicants who propose to exhibit all new works should provide a sample of current work, sketches or drafts, photographs, etc. that best illustrate the proposal. 
Exhibition proposals should include the following:
Your contact information 

Artist statement & bio 

Artist resume 

Exhibit proposal 

Five high-quality images of your work with descriptions 

Any interest in offering an educational component (for example: a workshop, lecture, demonstration, etc.)
An application fee of $40 will be charged to all applicants. Applicants who may be experiencing financial hardship are encouraged to inquire about a scholarship. 
Apply online through this FORM - also embedded in the column to the right. Please note: this form does not autosave.
The deadline to submit proposals is May 15, 2023 by 11:59 pm Alaska Standard Time. All proposals will be reviewed by the JAHC Board Gallery Committee, artists will be notified of decisions, and the 2023-24 Gallery Season will be announced at the end of June 2023. 
Additional Information for Interested Artists, Groups, and Organizations
Set Up & Take Down
The Arts Council provides all the hardware, tools, and basic installation materials for artists to hang their work. There are a number of pedestals and plexi-glass plinths available for use as well. Any additional needs such as shelving or special displays are the responsibility of the artist. It is the responsibility of the artist to frame their 2D work and/or prepare 3D work for installation. Artists should also prepare title cards, an artist and/or exhibit statement, and a price list - these can be printed by Arts Council staff if needed.
First Friday Receptions
Public receptions take place during the First Friday of each month, from 4:30-7 pm. The Arts Council provides snacks such as: cheese, crackers, chocolates, fruit, nuts, etc. Artists are welcome to bring anything additional, but this is not required.
Marketing
Artists are responsible for the creation and printing of marketing materials such as a poster and postcards. Posters should be dropped off at the JACC on Tuesday before noon two weeks before the opening reception (we will hang 40 8.5x11" posters around town for you). 3-5 high quality photos of the work in the exhibit (can be detail or full images), a short description of the exhibit and/or current artist bio should be emailed to the Gallery Manager approximately three weeks prior to the exhibit. In addition, artists should send a professional headshot or a photo of themselves for use on our website and social media.
Assistance with poster and postcard design is available at the cost of $50/hour. Interested artists should contact our Marketing Manager, Traci Ferguson Hayes (traci@jahc.org) to arrange this service at least one month prior to the exhibit.
Sale of Work 
Sale of work is handled by Arts Council staff at the front desk. All sales are run through our point of sale system. Work that sells during an exhibit stays at the JACC after the exhibit and purchasers are notified when they can come pick up their artwork. Artists are welcome to sell merchandise and prints of their work, in addition to the original artwork. At least 50% of the original artwork in the exhibit should be for sale.
Artist Compensation
The Arts Council retains 25% of all sales, and pays the remaining 75% to the artist the month following their exhibit.
About the Juneau Arts & Humanities Council Gallery Program
The JAHC Gallery Program supports both established and emerging Alaskan artists showing new works, while representing the broadest spectrum of visual art media.
There are currently two gallery spaces available to artists: the Arts Council Gallery at the Juneau Arts & Culture Center (JACC), the Davis Gallery in Centennial Hall (temporarily closed for renovations through August). Choose from the buttons below learn more about each gallery space and see what's on exhibit!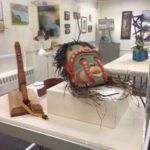 More Information
For more information about the Gallery Program, contact Rachelle Bonnett, Gallery Manager at (907) 586-2787 or by emailing rachelle@jahc.org. Applications for the Gallery Season are typically posted in March and due at the end of April each year. Visit the Calls for Art page additional opportunities.