Call for Applications
The Juneau Arts & Humanities Council is now accepting exhibition proposals for the upcoming Gallery Season running October 2022 through September 2023.
Individuals, groups, and organizations in Alaska are eligible to apply. All proposals will be considered, but preference will be given to artists who have not exhibited in the JAHC Gallery Program in the last two years. Selected artists will be awarded a month-long exhibit in the Juneau Arts & Culture Center with an opening reception during First Friday.
To apply, please submit:
Your contact information (name, email, etc.)
Artist statement & bio (500 words or less)
Artist resume (1 page, in Word or PDF format)
Exhibit proposal (300 words or less)
Five images of your work (with supporting information)
Original artwork should be created within the last three years and not previously exhibited in Alaska (including virtual galleries). Applicants who propose to exhibit all new works should provide a sample of current work, sketches or drafts, photographs, etc. that best illustrate the proposal. A fee of $40 will be charged to all applicants after submitting an application. Applicants who may be experiencing financial hardship should send an email to: firstfriday@jahc.org to inquire about a scholarship.
The deadline to submit exhibition proposals is April 30, 2022 by 11:59 AKST. All applications will be reviewed by the JAHC Board Gallery Committee and decisions will be announced by June 15, 2022. 
Apply Now
Use the form below to apply. Please note that this form will not autosave your progress if you exit or refresh your window. To open the application form in a new window click HERE.
The Juneau Arts & Humanities Council Gallery Program
The JAHC Gallery Program supports both established and emerging Alaskan artists showing new works, while representing the broadest spectrum of visual art media.
There are three gallery spaces available to artists: the Arts Council Gallery at the Juneau Arts & Culture Center (JACC), the Davis Gallery in Centennial Hall, and the Virtual Gallery hosted on our website. Choose from the buttons below to navigate to a gallery space!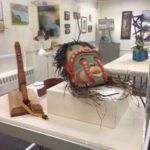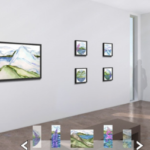 More Information
For more information about the Gallery Program, contact Laura Miko, Artist Programs Manager at (907) 586-5369 or by emailing laura@jahc.org. Applications for the Gallery Season are typically posted in March and due at the end of April each year. Visit the Calls for Art page for more info and other opportunities.