June Exhibit: JAHC Juried Art Show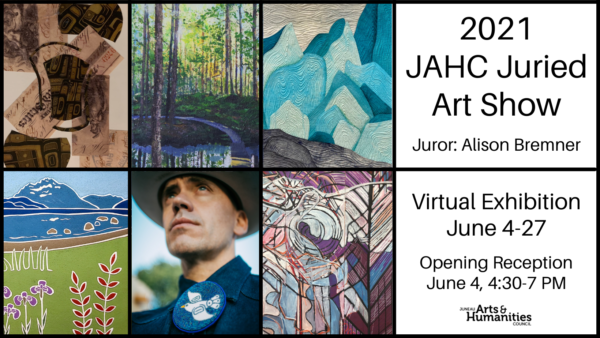 "Coming out of a collectively turbulent year, I was interested in showcasing the artists' creations without the restriction of a theme. What had the artists been drawn to create? Some spoke to the times directly, while others made no direct mention to quarantine but evoked strong feelings we may have encountered this past year through their work. Important conversations are had in this show - traditional land ownership, climate change, as well as more lighthearted pieces like a joyous basket of onions. Having the big conversations while holding space for in-the-moment joy is a balance I hope we all can find. Congratulations to all, it has been a pleasure to see your work."

--- Alison Bremner, Juror
Support the Arts in Juneau
You can help us continue to support artists by making a one-time donation or becoming a member of the Juneau Arts & Humanities Council. Donate HERE!
How to Use the Virtual Gallery
As we continue to navigate through the pandemic, we are excited to offer an alternative to in-person exhibits here in Juneau and beyond with this new virtual gallery space. View these exhibits on your computer or on your smartphone - you just need to download the Exhibbit app from the app store (don't worry, it's free!).
Once you enter the gallery, take your time browsing the exhibit. Navigate through the gallery with your keyboard/mouse on your computer or with your finger if you're viewing on your smartphone.
Helpful Tips and Tricks
Use the menu feature to help navigate
Click on individual images to see them up close, use the catalog to browse
Use the "See More" link to view the full collection in a series
Click on the bar at top right of each piece to drop-down the placard to learn more, to inquire, or make a purchase
Juried by Tlingit artist Alison Bremner, this exhibition features work by the following artists: Teri Gardner Robus, Emily "Em" Lang, Liyuan Zhang, Q'on Bear-Clark, Miah Lager, Donna Catotti, Robin Hiersche, Lily Hope, Crystal Cudworth, Jane Lindsey, Sydney Akagi, Fabienne Peter-Contesse, Patti Hutchens Jouppi, Bo Anderson, Renee Daniels, Linda Van Houten, Chihiro Pierce, Deb Reifenstein, Alain Soltys-Gray, Gordon Harrison, Christine Kleinhenz, Rachael Juzeler, Barbara Shepherd, Timi Johnson, Kathy Hamblett, Holly Lena, & Deanna Lampe.
Virtual Gallery Exhibition Schedule
OCTOBER 2020: Juneau Ex-Pats
NOVEMBER 2020: Juneau Plein Rein Painters: Outside Inside
DECEMBER 2020: MK MacNaughton and Dan Redfield: Paintings & Photographs
JANUARY 2021: Juneau ArtWorks Showcase
FEBRUARY 2021: Gabrielle Vance: I Love You the Most
MARCH 2021: Kelsey Fagan of Elevate Art Studio
APRIL 2021: Tess Olympia Ramsey: Fire & Rain
MAY 2021: UAS Ceramics Show
JUNE 2021: JAHC Juried Art Show
JULY 2021: Della Cheney & Weavers of Juneau
AUGUST 2021: Alex Witt & Emily Charlotte Taibleson: Portrait of the Tongass
SEPTEMBER 2021: Alaska Breastfeeds Coalition
About the Arts Council Gallery
The Juneau Arts and Humanities Council Gallery is used to promote cultural awareness, stimulate creativity, educate, and provide a community service. It is the intention of the JAHC Gallery Program to support both established and emerging Southeast Alaskan artists showing new works, while representing the broadest spectrum of visual art media. The JAHC Gallery provides exhibiting opportunities for new and emerging artists, and established artists who have not recently exhibited in Juneau. Gallery Exhibits open monthly every First Friday, with virtual receptions from 4:30pm - 7:00pm.
Resources for Artists
Artists, check out this new resources page for helpful tips, blog posts, and articles all about preparing for a virtual exhibition!