Winter Sunshine // Fishing Line Design
On exhibit January 7-29, 2022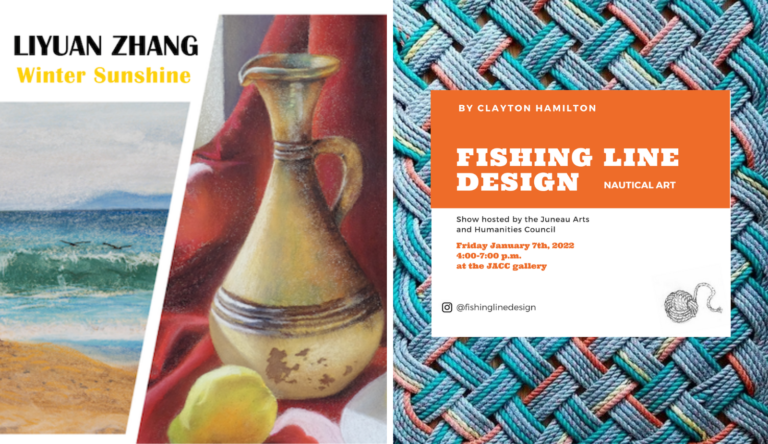 Gallery Hours

The Gallery is generally open any day the JACC is open. You can reach us at (907) 586-2787.
Juneau Arts & Culture Center Hours
Open by appointment only on Mondays // 10-4 Tuesday - Friday
COVID-19 Policy

Masks must be worn at all times while in the JACC, regardless of vaccination status. Please observe social distancing and stay home if you are unwell.
EXHIBIT STATEMENT: WINTER SUNSHINE
In this Winter Sunshine exhibit, Liyuan displays some of her early works, primarily still-life pastel paintings, which for the first time have been displayed in public. The exhibition also displays some beautiful Juneau landscapes, so this gallery is like a small retrospective of her art. Alaska's unique and amazing natural landscapes bring much artistic inspiration to her. As a result, Liyuan focuses on painting Juneau's beautiful landscapes using a variety of mediums, including pastels, acrylics, charcoal, and pyrography. For more information, check her website or visit Juneau Artist Gallery. Liyuan is excited and honored to present her art to you, enjoy!
Liyuan Zhang - Artist & Graphic Designer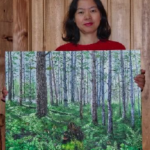 Liyuan Zhang has always loved art, even as a child. She studied graphic design at Diablo Valley College, California in 2017 when she began her art career. After graduation from DVC, she moved to Juneau with her family in early 2020. Liyuan believes that Alaska is a magic place that has awakened her childhood dream of becoming an artist.
Website: http://lzartweb.com/ | E-mail: s.zhang86@yahoo.com | Instagram: @sunny.zhang.98892
EXHIBIT STATEMENT: FISHING LINE DESIGN
Alaska is a coastal state and Juneau is a seaside town. The raw materials for this craft – old fishing lines and scraps and ends – are here in abundance. This traditional, nautical craft has a place here in our seaside town. People come from all over the world to experience our rich cultural and coastal lifestyle here in Southeast Alaska, and hopefully some of that flavor is captured in these pieces.
All of this art is made of marine debris, aka trash. The materials are abundant and generic, and the craft itself is a very traditional one. The nature of the craft however, means that each and every piece is a completely unique one. Please enjoy these everyday items as much as the artist enjoyed making them.
Clayton Hamilton - Artist & Fisherman
Working on the water and handling lines for over a decade, fisherman-artist Clayton Hamilton has a certain practical approach to his art. As an Alaskan fisherman, he's done everything from trolling to trawling and setnet to seine. Now he gillnets for himself on the F/V Dial West out of Juneau, AK and loves gear work so much that he can't stop himself even in the off season. His repurposed retired fishing line finds new life as rugs, bowls and baskets and hopefully makes us all think about marine debris and the trash we leave behind.
Instagram: @fishinglinedesign
About the Arts Council Gallery
The Arts Council Gallery at the JACC is used to promote cultural awareness, stimulate creativity, and provides monthly exhibiting opportunities for new, emerging, and established artists who have not recently exhibited in Juneau. Exhibits open monthly every First Friday, with public receptions from 4:30-7:00pm.
2021-22 Gallery Exhibition Schedule
October 2021 | Matt Robus, Carved Wooden Birds
November 2021 | Crystal Worl, Digital Giclee Prints
December 2021 | Fawn Waterfield Lightworks, New Media & Digital Photography
January 2022 | Clayton Hamilton, Fishing Line Design / Sunny Zhang, Pastel Paintings
February 2022 | Romeo the Wolf Photography Exhibit
March 2022 | MRV Architects, Juxtaposition: Form in Alaska
April 2022 | UAS Student Art Show
May 2022 | Christine Kleinhenz, Acrylic Paintings
June 2022 | SHI Youth Juried Art Show, with Celebration 2022
July 2022 | Kelsey Hoke Martin, Acrylic Paintings
August 2022 | Colleen Firmin Thomas, Mixed Media
September 2022 | Hollis Kitchin, Watercolor
About the JAHC Gallery Program
The JAHC Gallery Program supports both established and emerging Alaskan artists showing new works, while representing the broadest spectrum of visual art media. There are three gallery spaces available to artists: the Arts Council Gallery at the JACC, the Davis Gallery in Centennial Hall, and the Virtual Gallery hosted on our website. 
For more information about the Gallery Program, contact Laura Miko, Artist Programs Manager at (907) 586-5369 or by emailing laura@jahc.org.
Applications for the 2022-23 Gallery Season will be posted in March 2022 and due in April. All interested parties are invited to apply. Visit the Calls for Art page for more info and other opportunities. 
Support the Arts in Juneau
You can help us continue to support artists by making a one-time donation or becoming a member of the Juneau Arts & Humanities Council. Donate HERE!