October Exhibit: Juneau Ex-Pats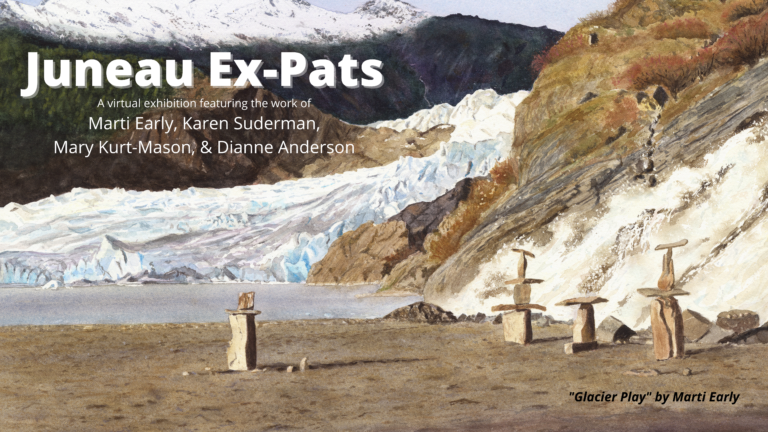 Gallery Program Update

As the Juneau Arts & Humanities Council continues to navigate through the pandemic, we are excited to bring a safe gallery showing to Juneau (and beyond) with this new virtual exhibit space.
Once you enter the gallery, take your time browsing the exhibit. Navigate through the exhibit space with your keyboard / mouse or with your finger if you're viewing on your smartphone. Note that you can view this exhibit on your smartphone, but you'll need to download the Exhibbit app first (don't worry, it's free). Click on images to see them up close and learn more about each piece.
You can help us continue to support artists by making a one-time donation or becoming a member of the Juneau Arts & Humanities Council. Donate today!
Interested in Purchasing Work in the Exhibit?

Please email firstfriday@jahc.org to purchase something from the Juneau Ex-Pats Exhibit. To buy merchandise such as cards or prints from the exhibit, visit our online shop.
Artist Spotlight: Marti Early
Having spent most of her life in Alaska, Marti Early especially loves to paint landscapes of beloved places in Juneau. She uses watercolor to express the happiness, peace, and sense of connection that come from being among the mountain and trees, water and glaciers, and the life supported by this amazing area of Earth.
She moved to Juneau from Fairbanks in 1977 to work with the Alaska Department of Environmental Conservation. Throughout her life she has loved to draw and paint, but painting often took a back seat to the demands of a busy life. Memorable art classes include life drawing with animals (including a lynx!) in Fairbanks with renowned wildlife artist Bill Berry in the 70s, and studying color, watercolor and pastel life drawing at UAS in the 80s and 90s. In the early 2000s she returned again to watercolors, painting briefly with Juneau's Plein Rain group, but after retirement, she can now focus more on painting
Although Marti and her husband relocated in 2010 to Lancaster, Pennsylvania, to help with aging parents, she returns to Alaska as often as possible. There, she spends precious time with loved ones and walks the trails, absorbing the colors and light that will inspire her next paintings.
Artist Statement
I love watercolor for its transparency, allowing the paper to give light. Water can assert itself in surprising ways, sparking creativity and, at times, awe. In addition to color, the pigments have a range of qualities -- paint from the tube can be staining, opaque, transparent, granulating, and/or liftable. You can blend colors by mixing paint on the palette, on the paper, or with multiple layers.
My style these days is very realistic – lending itself to patiently exploring the medium and studying detail. This establishes a relationship with each place, each rock, each tree, not just any one, but that one. In choosing subject matter, I strive to convey a sense of beauty, joy, and mystery.
My experience of the creative process is also interesting and applicable to other adventures: the planning, the confident/hopeful beginning, the dramatic fear of ruin, the final additions that make a painting come to life, and the joy of seeing all of that.
Artist Spotlight: Dianne Anderson
Exactly one year ago we got off the ferry in Bellingham to move to Robinsong Ranch, Monroe WA: property my sister and I bought to make a family compound from an old farm. My niece lives across the pasture with her pig and goats and my nephew has horses, chickens and ducks next door.
My husband and I retired from employment in Alaska. I taught art at University of Alaska SE, art in the school district and displayed/co-owned Juneau Artist Gallery each over 20 years and worked at the Alaska State Museum for 10 years. I am thrilled to be now a full-time artist having lived and worked in Alaska 1982-2019. I miss you all.
Artist Spotlight: Mary Kurt-Mason
I moved to Juneau as a young teacher in 1977, met my husband, started a family and helped build our cabin at 18 mile. My love of geometry and color lead me to become first a weaver and then a quilter. Eventually, I was able to fulfill a life-long dream of working with glass. I'm captivated by its luminosity and durability, its strength and fragility.
I specialize in creating fused glass art clocks, combining beauty and function. As the hands move across the clock's face and light travels across the surface, every glance reveals another aspect of the piece.
Artist Spotlight: Karen Suderman
My husband and I moved to Juneau as newlyweds in 2009. The visual imprint of Alaska's monumental beauty still inspires me when I paint.  I created works for the first show in the JACC gallery space on our Douglas Island porch.
For this show I'm sharing some of the mini myriad landscapes I've painted this year, as well as some recent larger fresco landscapes and acrylic abstracts. 
Artist Statement
Art is all around us, in everything that is alive, but how often do we see it?
My goal is to slow down time, create space and provide a unique perspective for the viewer to see the beauty in the familiar, the sublime in the ordinary. There's a landscape in a fingernail, if you choose to see it.
My images depict parts of the natural world in ways meant to be both unique and familiar. I paint sections of living things, altering their size to make them more noticeable. I apply layers that change their spatial reference.
Staying true to the colors and line in each form they are a mix of what's there and what is uncovered through the artistic process. 
I want you to notice the connections between lines, not just the lines themselves, the colors and the relationship between them, the space between things. Our world was painted by a master artist, my job is to help you see it.
Arts Council Gallery
The Juneau Arts and Humanities Council Gallery is used to promote cultural awareness, stimulate creativity, educate, and provide a community service. It is the intention of the JAHC Gallery Program to support both established and emerging Southeast Alaskan artists showing new works, while representing the broadest spectrum of visual art media. The JAHC Gallery, located in the Juneau Arts and Culture Center, provides exhibiting opportunities for new and emerging artists, and established artists who have not recently exhibited in Juneau. Gallery Exhibits open monthly every First Friday, with public receptions from 4:30pm - 7:00pm.
Virtual Gallery Exhibition Schedule:
OCTOBER 2020: Juneau Ex-Pats
NOVEMBER 2020: Plein Rein Painters
DECEMBER 2020: TBA
JANUARY 2021: TBA
FEBRUARY 2021: TBA
MARCH 2021: TBA
APRIL 2021: TBA
MAY 2021: TBA
JUNE 2021: TBA
JULY 2021: TBA
AUGUST 2021: TBA
SEPTEMBER 2021: TBA