CURRENT EXHIBIT:
Perceived American | Inari Kylänen
On exhibit March 3-30
2022-23 Gallery Exhibition Schedule
October 2022 | Chloey Cavanaugh, Graphic Design
November 2022 | UAS Northwest Coast Design Student Art Show
December 2022 | Kirsten Shelton, Illustration
January 2023 | Kirsa Hughes-Skandijs, Acrylic Paintings
February 2023 | Tom Bornstein, Watercolor Paintings
March 2023 | Inari Kylanen, Mixed Media
April 2023 | UAS Ceramics Student Art Show
May 2023 | Fabienne Peter-Contesse, Textiles
June 2023 | Portable Southeast Traveling Art Exhibit
July 2023 | Patti Hutchens Jouppi, Watercolor & Oil Paintings
August 2023 | TBA
September 2023 | Group Show, Alternative Fired Ceramics
ABOUT THE ARTIST
I make art because I have to. It is an integral part of who I am and how I process my experiences. For me art is a continuous process of discovery, both in terms of myself and my relation to the world. I like to keep my creative process open to prevent visual blocks. My image making method is very organic, uncontrolled, and - some might say - haphazard. I constantly change my mind, recreating parts of the image until I see something I like. I try to shut down my analytical mind and let the image guide me; it is telling me what needs to be done, how to do it, and most importantly, when to stop.
My fluid art making process is one of the reasons I struggle to write exhibition proposals. The problem is that often I do not start with a solid plan, nor do I make detailed sketches beforehand. Most certainly I do not have a perfectly executed vision in my head that would then be transferred to my canvases. Instead, I start with a vague idea, a seed, that will have a life of its own, sometimes independent of my wishes and plans. This method allows me to concentrate on the process of painting while I wait for the underlying concepts to reveal themselves. For me, painting is a meditative editing process in which the subject matter slowly comes in to focus. I love to be lost in the process itself, not knowing where the current visual pathway is going to lead me. My method requires a lot of trust: on myself, on my abilities, on my materials, and on the subject matter itself.
As a painter I am interested in color, texture, and juxtaposition of unexpected elements. I use acrylic paint on wooden panels and I concentrate on color relationships by painting thin layers, building my images gradually. I use color washes and glazes, drybrushing, and subtle changes in color to create an interesting surface. I want my paintings to be beautiful, interesting, and well crafted. I prefer wooden supports over fabric ones and they give me more flexibility to dill on them, to attach various material, or sanding down the paint layers back to bare wood. This gives me a lot of flexibility to change the direction of my painting without leaving too many marks on the surface. I find beauty in visible brush marks, strong outlines and vibrant color choices. I strive to make my paintings strong and vivid and I hope they'll have a leave an impression on the viewer.
About the Arts Council Gallery
The Arts Council Gallery at the JACC is used to promote cultural awareness, stimulate creativity, and provides monthly exhibiting opportunities for new, emerging, and established artists who have not recently exhibited in Juneau. Exhibits open monthly every First Friday, with public receptions from 4:30-7:00pm.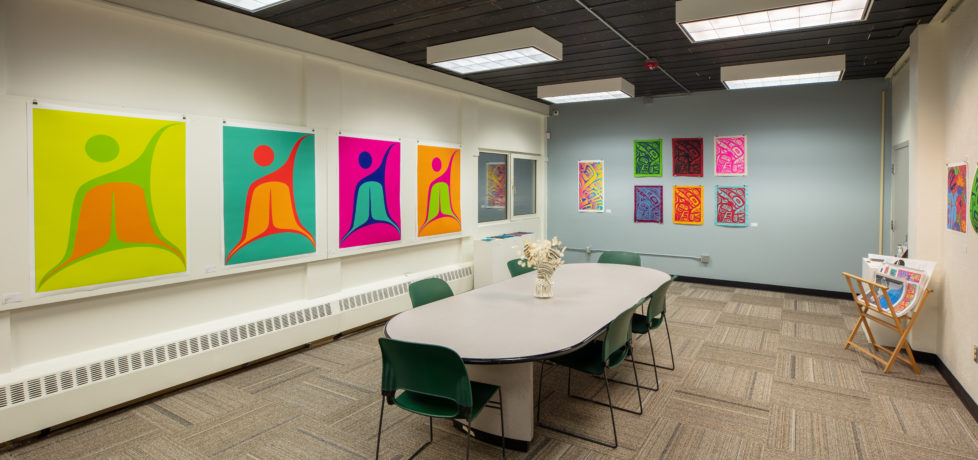 Gallery Hours

The Gallery is generally open any day the JACC is open. You can reach us at (907) 586-2787.
Juneau Arts & Culture Center Hours
Open Tuesday - Friday, 9 am - 5 pm & Saturdays, 10 am - 3 pm
About the JAHC Gallery Program
The JAHC Gallery Program supports both established and emerging Alaskan artists showing new works, while representing the broadest spectrum of visual art media. There are three gallery spaces available to artists: the Arts Council Gallery at the JACC, the Davis Gallery in Centennial Hall, and the Virtual Gallery hosted on our website. 
For more information about the Gallery Program, contact Rachelle Bonnett, Gallery Manager at (907) 586-2787 or by emailing rachelle@jahc.org.  
Applications for the JAHC Gallery Season (October through September each year) are usually posted in March and due by late April/early May. All interested parties are invited to apply. Visit the Calls for Art page for more info and other opportunities. 
Support the Arts in Juneau
You can help us continue to support artists by making a one-time donation or becoming a member of the Juneau Arts & Humanities Council. Donate HERE!