January Exhibit: Juneau CARES ArtWorks
The City and Borough of Juneau allocated $330,000 of its CARES funds to provide work for Juneau artists and creative workers through December 30, 2020. 34 projects employing over 130 people were selected and will be displayed throughout the community and online. Many directly address the Covid-19 pandemic, others offer uplifting messages of encouragement – all showcase the wonderful talent and creativity in Juneau.
A sampling of 2D and 3D works from these projects can be viewed in the virtual exhibit below. Videos, graphic design, and other creative projects are featured on this page as well. Just scroll down past the gallery portal to them all!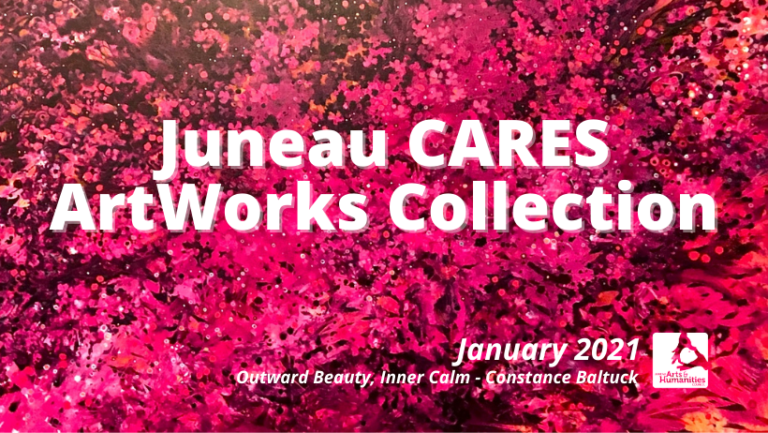 Support the Arts in Juneau
You can help us continue to support artists by making a one-time donation or becoming a member of the Juneau Arts & Humanities Council. Donate HERE!
How to Use the Virtual Gallery
As we continue to navigate through the pandemic, we are excited to offer an alternative to in-person exhibits here in Juneau and beyond with this new virtual gallery space. You can view the exhibit on your smartphone, but you'll need to download the Exhibbit app first (don't worry, it's free!).
Once you enter the gallery, take your time browsing the exhibit. Navigate through the gallery with your keyboard/mouse on your computer or with your finger if you're viewing on your smartphone.
Helpful Tips and Tricks
Use the menu feature to help navigate
Click on individual images to see them up close, use the catalog to browse
Use the "See More" link to view the full collection in a series
Click on the bar at top right of each piece to drop-down the placard to learn more about each piece
GRAPHIC DESIGN AND OTHER PROJECTS
Juneau's Climate Change Solutionists
Anjuli Grantham, Brian Wallace, Christine Carpenter
Medium: writing, photography, graphic design
We have solutions to climate change. We are the solution to climate change. Writer Anjuli Grantham, photographer Brian Wallace, and designer Christine Carpenter collaborated to share ten local climate change solutions and the stories of ten individuals who embody these solutions. This project educates Juneau about practical ways to reduce greenhouse gas emissions and inspires local climate action.
Colors of Alaska Coloring Book
Kelsey Erickson-Kizer
Medium: Pen and ink drawings and acrylic art pieces
Meet me In Alaska has been creating many art pieces over the years. This book is a compilation of popular images, animals in nature, and the best images from previous coloring books. This book is designed to bring the art into the homes of those that cannot get out or be in public spaces during the pandemic.
Free distribution through Catholic Community Services, Food Bank, Johnson Youth Center, Library (when it reopens), other meeting places TBD.
Hunker Down, Juneau! Coloring Book
Mary McEwen
Medium: digital illustration
Hunker Down, Juneau! Coloring Book is a coloring book geared toward kids. The images and text contain messages of positivity and public health amid the challenges of our current situation. It is place-based, featuring familiar Juneau landscapes and animals. Animal characters are shown in familiar scenes from life in a pandemic, such as more time at home, masks, socially distant birthdays, and virtual gatherings.
This work will be provided electronically as a PDF to ensure that it can be shared easily and printed at home. It can be used by anyone in the community, such as individuals, schools, churches, or clinics.
Virtual Gallery Exhibition Schedule:
OCTOBER 2020: Juneau Ex-Pats
NOVEMBER 2020: Juneau Plein Rein Painters: Outside Inside
DECEMBER 2020: MK MacNaughton and Dan Redfield: Paintings & Photographs
JANUARY 2021: Juneau ArtWorks Showcase
FEBRUARY 2021: Gabrielle Vance: I Love You the Most
MARCH 2021: Kelsey Fagan of Elevate Art Studio
APRIL 2021: Tess Olympia Ramsey: Fire & Rain
MAY 2021: UAS Ceramics Show
JUNE 2021: JAHC Juried Art Show
JULY 2021: TBA
AUGUST 2021: Alex Witt: Portrait of the Tongass
SEPTEMBER 2021: Alaska Breastfeeds Coalition
About the Arts Council Gallery
The Juneau Arts and Humanities Council Gallery is used to promote cultural awareness, stimulate creativity, educate, and provide a community service. It is the intention of the JAHC Gallery Program to support both established and emerging Southeast Alaskan artists showing new works, while representing the broadest spectrum of visual art media. The JAHC Gallery provides exhibiting opportunities for new and emerging artists, and established artists who have not recently exhibited in Juneau. Gallery Exhibits open monthly every First Friday, with virtual receptions from 4:30pm - 7:00pm.