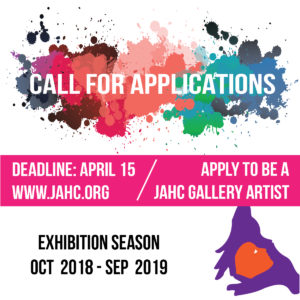 The Juneau Arts & Humanities Council is now accepting applications from artists to exhibit their work during the 2018/19-exhibition season!
Selected applicants will display their work in the Gallery for the duration of approximately one month, with an opening reception on First Friday. The Arts Council Gallery Program supports both established and emerging Alaskan artists showcasing new works, while representing the broadest spectrum of visual art media.
The Juneau Arts & Humanities Council welcomes original artwork created within the last three years in any media, and not previously exhibited in the JACC Gallery. Artwork should not violate city, state, or federal laws, or endanger viewers. Individual artists and art groups may apply. Preference is given to artists living and working in Southeast Alaska, particularly JAHC members in good standing.
To apply, submit an online application that includes the following:
an artist statement
current artist resume
8 images of your work
$40 application fee (renews your membership for a full year)
Online application: https://jahc.submittable.com/submit/79192/jahc-gallery-artist.
The deadline to apply is April 15, 2018 by midnight, Alaska Standard Time.
Decisions will be announced on June 1, 2018. Questions? Contact the Gallery Director at rachelle@jahc.org or by calling 586-2787.