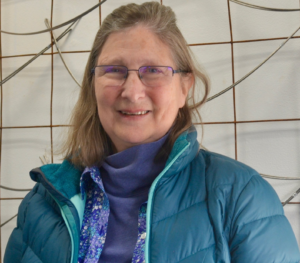 It was with great sadness that we learned of the passing of Kathy Kolkhorst Ruddy on September 10. Many of you knew her and know of her many, many contributions to the arts and culture community in Juneau, her exceptional generosity and kindness to so many people.
In recognition of her years of inspired leadership and service, the Board of Trustees of the Juneau Arts and Humanities Council voted to change the Mayor's Awards for the Arts to the Kathy Kolkhorst Ruddy Awards for the Arts. The Awards will be presented in the summer when her family will be in town to be a part of the event. Mayor Weldon very graciously agreed that it will be fitting and wonderful to remember her dedication and service each year by presenting the arts awards in her name.
Highlights, for me at least: Kathy was a founder of Juneau Jazz and Classics and served on its board for years, she helped "Tahku" the humpback whale project, she played flute in the Juneau Marching Band, she was a Groundbreaker for the New JACC project, and recently was working on the Dick and Nora Dauenhauer library. Kathy participated in our AAN YÁTX'U SÁANI: NOBLE PEOPLE OF THE LAND project in 2018. Hear her stories from that project here. 
Nominations for the 2021 Kathy Kolkhorst Ruddy Awards for the Arts will be open in January.
Read the full newsletter HERE.