Gospel Celebrations & Workshops
The Juneau Arts & Humanities Council regrets to announce that we will not be hosting the Gospel workshops and celebration in 2023 due to limited resources and space during the Centennial Hall closure. We will keep the public updated as we know more for any future gospel workshops.
----------------
The Juneau Arts & Humanities Council brings Gospel to Juneau! Infectious, uplifting music - join the chorus or just come to enjoy the music!
Every year the Juneau Arts & Humanities Council partners with Black Awareness Association, Juneau AK to present a Gospel Choir Workshop and Gospel Celebrations.
2022 Gospel Celebration Program
A Celebration of African Americans
who changed American History
Sunday, February 27, 2022, 3:00pm Centennial Hall
Director: Bobby Lewis
Piano: Eustace Johnson
Bass: Rob Cohen • Drummer: Clay Good
Welcome Nancy DeCherney
Opening Prayer Sherry Patterson
"Freedom Is Calling My Name"
Readers: Annie Caulfield
"Soon I Will Be Done With The Troubles of This World"
Soloist: Sherry Patterson
Reader: Mona Mamestuka
"Come Thou Almighty King"
Readers: Larry West, Sharon Denton
"I Raise A Hallelujah"
Soloist: Brett Crawford & Rhonda J - Bear
Readers: David Ham, Jane Mores, Joan Wilkerson
"Never Grow Old"
Soloist Bobbi Mitchell
Readers: Missouri Smyth. Stephanie Hoag
"Holy, Holy, Holy"
Soloists: Brett Crawford, Cheryl Crawford, Amanda Ryder
Readers: Kristin Larson, Amanda Ryder
"Praise Medley"
Soloist: Missouri Smyth, Sherry Patterson
Reader: Cheryl Crawford
"Love"
Readers: Bobbi Mitchell, Rhonda J - Bear, Ellen Canapary
"When We All Get To Heaven"
Reader: Mona Mametsuka
"Evidence"
Soloist: Sherry Patterson
Reader: Missouri Smyth & Bobby Lewis
"Rise Up"
Soloist: Jocelyn Miles
Reader: Annie Caulfield
"He's Got The Whole World In His Hands"

Rev. Bobby Lewis is the Senior Pastor at the New Light Baptist Church in Harlem, New York. He also travels the world sharing the hope of God through singing and teaching music. Some of his greatest achievements: seeing his choir sing with Barbara Streisand at Madison Square Gardens, and writing the opening song for one of Oprah Winfrey's birthday celebrations. Bobby's Ensemble was featured on PBS with Norm Lewis at Lincoln Center in his cabaret, Who Am I. They were also a featured ensemble in "The Odyssey" at the Delacorte Theatre in Central Park, singing the music of Todd Almond as part of the Public Theater's Shakespeare in the Park series. It was so successful, Todd Almond invited Bobby's Ensemble to join him at Lincoln Center to be featured in his cabaret.

Eustace Johnson is currently the Minister of music at the Baptist House  of Prayer and the Morningside Pentecostal Church in Harlem, New York City. He is also the Music Director of the Bobby Lewis Ensemble. Eustace has played in every major concert hall in New York City and continues to perform as a pianist, keyboardist and organist, accompanying many soloists and vocal groups around the tri-state area   and abroad. He spends much of his time in private piano instruction, composing, arranging and producing. In addition to the many recordings, Eustace has performed, produced and arranged three solo CD projects. Eustace has appeared on many television spots including the Regis & Kelly show and worked with Stevie Wonder, Barbara Streisand, Chuck Berry, Pete  Seeger, Peter Yaro (of Peter, Paul & Mary), Colonel Abrams, Odetta, Richard Smallwood, Tramaine Hawkins, Andrae Crouch among others.    
2022 Gospel Choir: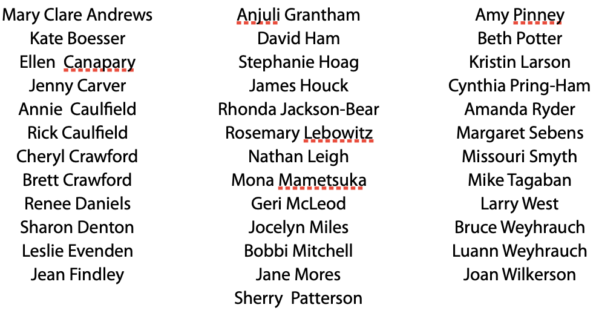 Gospel Celebration
The Gospel Concert will be held on Sunday, February 27th at Centennial Hall at 3pm and will be in conjunction with a Soul Food dinner from the Juneau Black Awareness Association. All attendees must be masked and show proof of vaccination.
Gospel Workshop
The Gospel Workshops are held on Monday, February 21 through Thursday, February 24 from 6:30-8:30pm at the Juneau Arts and Culture Center. The choir will be limited to 50 people. Registration includes a special Singer's Mask from the Broadway Relief Project. Choir and audiences must be masked and provide proof of vaccination.