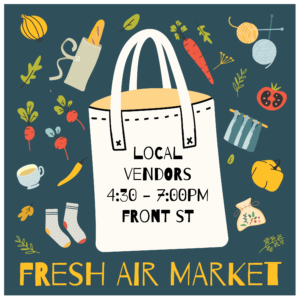 Exciting news! We are working closely with the Downtown Business Association and CBJ to bring you a Fresh Air Market this coming First Friday — both in-person and virtual!
VIRTUAL MARKETS
The Virtual Market will be released on our online shop and items will be listed and up for the public to order for a limited set time (2-4 days) — JAHC staff will then collect items from vendors and do no contact deliveries around Juneau, or alternatively ship to out of town shoppers.
Sales will end on Thursday, August 6 and we will let vendors know what sold soon after. Vendors will be responsible for sorting and packing orders for each customer. If online vendors are also participating in the Fresh Air Market, we will collect items during set-up/check in. If a vendor is only participating in the Virtual Market, they will need to drop off items during the set-up time or make arrangements for delivery or pick up by Friday.
The JAHC Team will then deliver all the orders on Saturday, August 8. All online sales will have a 25% commission fee which will help pay for the staff time it takes to manage the online shop and delivery. We will send checks out to vendors from online sales 2 weeks from the date of the Market–Vendors who are not already Lobby Shop vendors will need to fill out a W-9 form the first time they participate.
For our first Virtual Market, we are limiting Vendors to 5 products–if this goes smoothly we hope to expand these product placement numbers in the future, and especially for food fest. To register products for the August Virtual Market all submissions are Due by Monday AUG 3rd. The Virtual Market will be open Wednesday/Thursday. Items will be collected Friday, and deliveries will be Saturday.
INTERESTED IN BEING A VENDOR?? REGISTER ITEMS FOR THE VIRTUAL MARKET HERE
FRESH AIR MARKETS
Fresh Air Markets will be hosted on First Fridays from 4:30-7PM and will be heavily monitored for safety and crowd control. These markets will run like our other markets, just with more precautions due to COVID-19. Please read the Market Rules and Safety Guidelines HERE.
Booth space is $25.00. Vendors are responsible to bring their own tables, chairs, and tents/coverings. If you register for a booth at the Fresh-Air Market, and the market is cancelled by the city due to concerns about COVID-19 spikes, vendors will be refunded. If any vendor wakes up the week/day of the market and is feeling sick, please let us know immediately and we will refund your booth right away.
We will be selling tickets to market goers for "time slots" so that we can try to limit the amount of people, and keep a constant stream of an acceptable amount of people in the market. We will allow free access to market goers if there is space in the time slot for more people. Market goers can also request a refund if they are feeling ill the day of the market and stay home.
INTERESTED IN BEING A VENDOR?? REGISTER FOR A BOOTH IN THE FRESH AIR MARKET HERE
More information, updates, and how to purchase tickets to the Fresh Air Market HERE. By participating in the market you agree to follow all of our safety precautions and guidelines–including wearing a mask AT ALL TIMES. If you do not want to, or have health concerns that do not allow you to wear a mask, please consider participating in the Virtual Market instead.