Art by the people, Art for the people. 
Art2 encourages people to actively participate in creative endeavors, to build strong networks between people, and engender a strong sense of community & place. The JAHC provides rental space, marketing & promotion, production assistance, and acts as a fiscal agent as needed. Beyond that, these programs are self-sufficient, and provide arts & culture programming driven by the wants & talents of the community! 

Juneau Piano Series
The Juneau Piano Series features both visiting and local artists, coordinated by Artistic Director Jon Hays, and performed on the new grand piano at the JACC. Purchase tickets and support the Juneau Piano Series here.
Upcoming Performances:
March 26, 2022 - Jon Hays
April 2, 2022 - Nic Temple
May 29, 2022 - Anson Sin
Artists of All Nations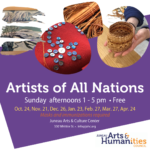 Artists of All Nations is a free open studio opportunity from 1 – 5pm, usually on the fourth Sunday of the month. All masked and immunized participants are welcome, and work tables will be spread out to allow for safe social distancing. Come enjoy working together on your art!
Juneau Cabaret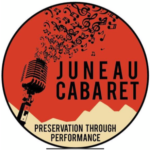 Juneau Cabaret is about preservation through performance.  In 2009, local singers and piano accompanists started a regular evening cabaret performance for experienced, developing, and returning singers who wanted to interpret selections from the Great American Songbook.  Over ten years, the project developed to include quarterly "open call" shows, an annual holiday rush-hour concert in December, and a curated lecture concert series featuring some of the project's very best singers interpreting works by Great American Songbook composers.
Poetry Omnibus
The Poetry OmniBus is a local juried poetry contest, in which selected poems will have the honor of being displayed on city buses for one year. The program nurtures our local writers, and provides inspiration, reflection, and consideration to the bus ridership. It also showcases our local talent to visitors and community members alike.
Adults or youth (ages 8 to 17) may participate. A total of 20 adult and 16 youth poems will be selected each year. The submission period for the program is from January 1, 2022 through February 28, 2022, with a celebration ceremony in April. Learn more and how to apply HERE.
Music on the Fly
Music on the Fly is a Live Music Series at the Juneau International Airport
Mission and purpose for the project:
•    To uplift and soothe travelers as they begin or end their journeys through the Juneau Airport.
•    To encourage local residents to visit and enjoy the airport and its amenities as a destination in and of itself.
•    To give local entertainers performance opportunities.
•    To set the tone for Juneau as Alaska's Creative Capital.