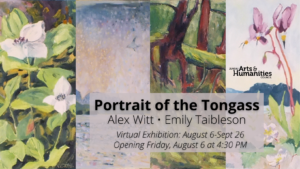 The Juneau Arts & Humanities Council presents "Portrait of the Tongass", a virtual gallery exhibition of paintings, drawings, and photographs made in the field by emily charlotte taibleson and Alex Witt.
Alex Witt & emily charlotte taibleson created this show to share their reverence for the Tongass National Forest stewarded by the Tlingit, Haida, and Tsimshian People. At 17-million acres this is the largest temperate rainforest left on Earth and the largest national forest in the United States. This work was made en plein aire during multi week research trips around Juneau and Glacier Bay. They lugged oil paints and an SLR camera up fjords, through bogs, and into the woods. The artists do not aim to glorify or simplify the Alaskan landscape, but to present its very complex present. Enjoy a glacial breeze as you view. Learn more about how to protect the Tongass at wecaninternational.org
"Portrait of the Tongass" opens on August 6 during First Friday and runs through September 26. Learn more and see the show HERE. In addition to the virtual exhibition hosted on our website, a selection of the original works will be on display in the Davis Gallery at Centennial Hall.