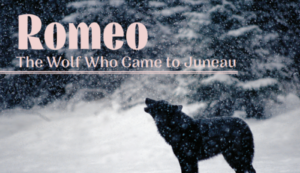 The Juneau Arts & Humanities Council and Orpheus Project present "Romeo: The Wolf Who Came to Juneau", a photography exhibit curated by Kerry M. Howard and Matthew S. Brown. Join us for an opening reception on Friday, February 4 from 4:30-7 PM at the Juneau Arts & Culture Center Gallery.
Proof of vaccination and masks are required to attend the opening reception.
Enjoy a stunning collection of 20 photos by five photographers that showcase Romeo's life in Juneau. All 20 photographs can be purchased through an online auction that goes live on February 4 and runs through February 26.
This exhibit is part of a month-long series of events organized by Orpheus Project:
• February 4: First Friday at the JACC
• February 11: 7 p.m., Fireside Chat with Nick Jans at the Mendenhall Glacier Visitor Center.
• February 18 & 19: 7:30 p.m. at TMHS, "Wolf Songs"—Our large-scale musical offering with works by Emerson Eads, Dave Hunsaker, William Todd Hunt, and Nick Jans.
• February 20: 2 p.m. matinee.
• Ongoing through 2022: A children's musical tale about Romeo with music created by Elena Levi and Joel Bennett.