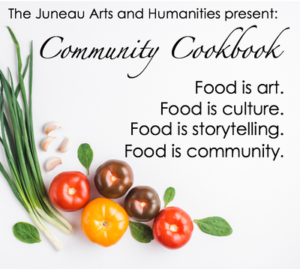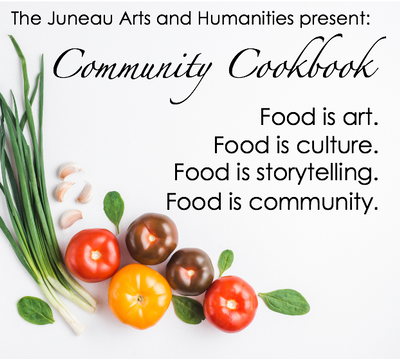 This month the Juneau Arts and Humanities Council is collecting recipes for our June Virtual First Friday Gallery, "Community Cookbook".
Food is a center of so many of our lives, and we all have recipes and flavors that have helped shape who we are.  Participate by submitting one of your favorites– a recipe passed down generations, food used to celebrate landmark moments, a new original creation, dishes learned during travels, and those made for or by loved ones that hold a special place in your heart.
Recipes don't have to be fancy, just one that you want to share with the community.  Help inspire someone to try a new dish or share a memory.
We encourage, but do not require participants to tell us the story/stories behind these recipes, and share photos of the food and/or the people, moments, and places that inspired them.
This is open to all ages, and locations. If submitting multiple recipes please fill out a form for each one separately.
Submissions are due by June 3rd at 11:59PM. The virtual show will be released via weblink on Friday, June 5th during Virtual First Friday.
To participate fill out this simple form: https://airtable.com/shr6mCnOkUS8YzHQL