This June, we're excited about summer, which hopefully includes some sunshine, and a couple of amazing Piano Series concerts!
Coming up on June 9th and June 30th, we have two wonderful talents joining us. First up on the 9th, Dr. Paul Krejci will bring us a taste of medieval times with piano scores from over 500 years ago. On June 30th, quintessential local talents Alexander Tutunov and violinist Franz Felkl will perform three sonatas of Johannes Brahms. These recitals will be in the Juneau Arts and Culture Center on the community's Wilhelm Schimmel piano. These are opportunities that you won't want to miss, and I hope that you will join us for this summer's inspiring concerts.
Ticket costs are as followed:
$25 general
$20 senior
$10 student
$5 more at the door
The JAHC places the utmost importance in bringing world-class pianists to Juneau as a part of our continued efforts to create a more vibrant and rich community for us all. Simply by attending these concerts, you are aiding our mission and help build a spotlight for these performers within our shared communities.
Support from our patrons goes further than you think. With the ever-present cost of travel to Alaska and artists fees rising each year, there is more importance than ever in securing funds to keep this opportunity for Juneau alive. These community programs cannot exist without the advocacy of the very communities they are created to enrich, and we hope that you will extend your support today.
To show your support of the Juneau Piano Series, please consider purchasing a ticket and make a donation.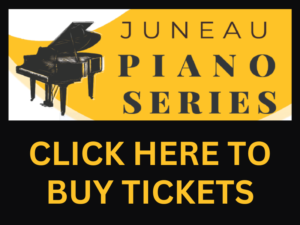 Lastly, if you are interested in learning more about Juneau Arts & Humanities Council's events and programs, be sure to check out our current season opportunities! Learn more at: https://www.jahc.org/box-office/arts-council-season-events/